Wind
The wind is rising, wetting my eyes.
That warmth—actually a waste product-—
Is salty but necessary too,
Provides relief.
The satisfied leaves clap weirdly,
Trying to break that prolonged dryness
Exorcising moisture.
How vast is that ocean!
How petty my life!
My mind too conspires; wouldn't stop nudging me.
The wind rises.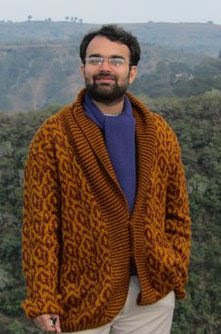 Amitabh Vikram Dwivedi is an assistant professor of linguistics at Shri Mata Vaishno Devi University, India. His research interests include language documentation, writing descriptive grammars, and the preservation of rare and endangered languages in South Asia. His most recent books are A Grammar of Hadoti (Lincom: Munich, 2012), A Grammar of Bhadarwahi (Lincom: Munich, 2013), and a poetry collection entitled Chinaar kaa Sukhaa Pattaa (2015) in Hindi. As a poet, he has published more than 100 poems in different anthologies, journals and magazines worldwide. Until recently, his poem 'Mother' has been published as a prologue to Motherhood and War: International Perspectives (Eds.), Palgrave Macmillan Press, 2014. His poetry collection Something Lurks It Seems is forthcoming (2017).