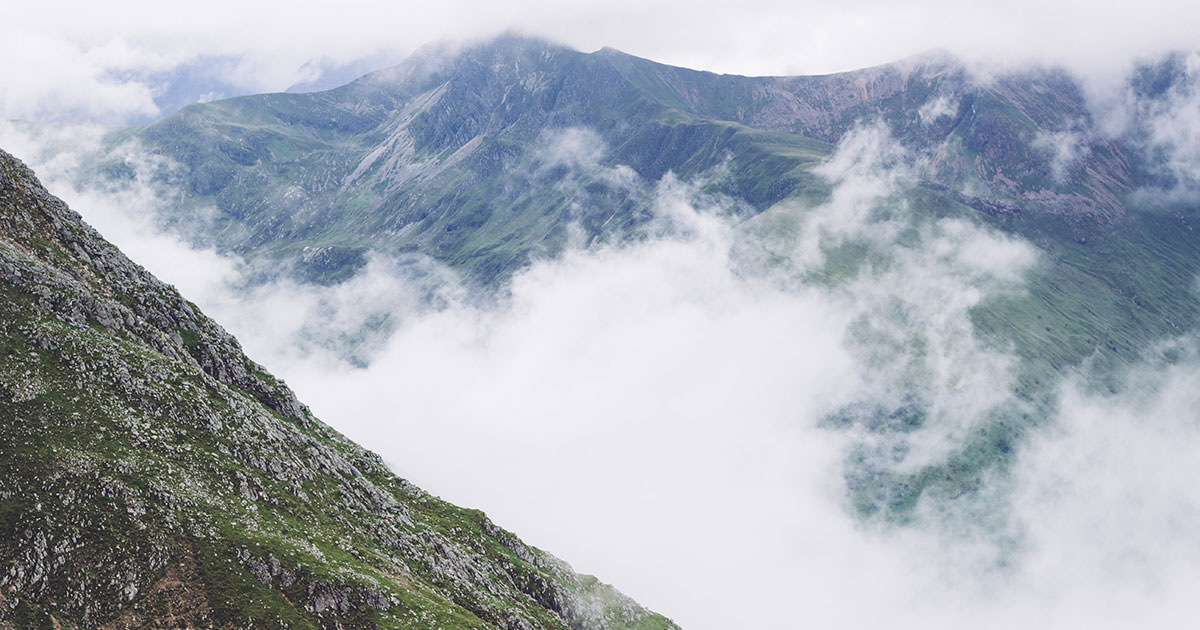 'Cloudburst'
Half way up the mountain, racing against the clock to win the time-trial, Bartholomew tries to recall the grittiness of his father's voice. He wishes he could feel the old man's steadying hand on his shoulder, someone to share the reading of the map.  The sharp cold draws tears from his eyes, or that's what he tells himself. It's calm and the sun glitters hard on distant loch views which fall away at his feet. He only permits himself these thoughts when he's on the mountain.
The higher Bartholomew clambers up the narrow path, the lower the damp clouds descend, daubing dewy drops on raincoat and rucksack. Every so often, the heavy mist shifts aside like a container ship changing course. He locks his sights onto the cairn atop Ben Lawers: a welcome beacon.
Finally he stands on the summit, bare hand on damp stone. A sea of cloud ripples and laps at his feet, obscuring any view. Bartholomew suppresses a strong urge to jump in and submerge himself. Instead, cold fingers fumble to unwrap a soggy cheese sandwich, which he eats without tasting before beginning his descent into the clouds.
Edging along the stony path, scrambling down over rocks made slimy in the mist, he rushes. He wants to hear their voices again. He knows the Cloud People lead you off the sheer edges, yet he feels the absence of company, isolated as he is in the cold embrace of the cloud.
Not sounds but smells. His grandfather's pipe smoke, floating past his nose and away to the left in the yellow fog. Bartholomew takes a step towards it. With a pang, remembering the steep drop, he orientates himself back onto the path only to be tempted by cinnamon and spice—grandmother's house in the winter. Single-mindedly sticking to the path, he sheds his childhood memories like clothes onto a beach with every downwards step, but it's not his grandparents he wants this time.
Bar-bar giggles a girl's voice. This way, Bar-Bar! It's Annabelle, the littlest of his sisters.
He stops and listens, smiling. Here, Bar-Bar, calls Annabelle once more. Her young voice swells into a family chorus: brothers, sisters, cousins, all singing his name. Help me out, Barty!… Over here, Bartholomew. Don't leave us behind….!
Tears course down his face unchecked, mingling with the damp, as he leaves his heart behind with the voices and continues downhill. His body mutinies. What harm will a little sit-down do? Time to gather his breath, get his bearings, maybe see if they can hear him… Deep down, something instinctive and basic forces him on. One trudging, reluctant step after another, despite his pinching toes, his pounding headache and his desire to stay with them this time.
Finally, colour—a dew-draped purple thistle, solitary and shivering. Further still, a scraggy tree bows in homage to the mountain gods, to the Cloud People, and Bartholomew has reached the tree line and civilisation. Almost immediately he steps down out of the fog and into warm sunshine which floods his yearning body with warmth. As the sun glitters on the loch below, the voices in his peripheral vision dissolve and evaporate, out of reach. He's forgotten what he heard, but he feels closer to them.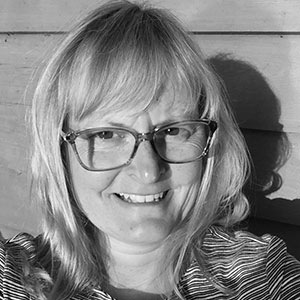 Helen Chambers is a short story and flash fiction writer from North East Essex, UK, who dreams up ideas walking by the river. She won the Fish Short Story Prize in 2018 and was nominated for Best Microfictions in 2019. With an MA in Creative Writing from the University of Essex, she also has publications at Citron Review, Spelk, Potato Soup Journal and Fictive Dream amongst others. She reads for the Brighton Short Story Prize. Read these, and others, on her blog at helenchamberswriter.wordpress.com