By Tim Clark
My sons, who are a lot younger than me, occasionally try to introduce me to new music.  "Hey, dad, check this out, I think you will like it." I don't. Hip-hop and rap (I'm not sure what the difference is or which is which) just don't appeal to me. In all fairness neither was really designed for a 60-year-old man from Nebraska. This music is for a different era, a different audience. My musical tastes are frozen, locked into a time capsule buried in fading memories and wishful thinking.
For Christmas my wife got me a year's subscription to Apple Music. Probably because she was tired of me debating the purchase with myself, of course I would drag her into the conversation. "Should I?" I would plead.
"Yes." She would sigh, and roll her eyes toward heaven for strength.
"I don't know. I just can't decide. What do you think?"
So, she took my phone and I had it. And the responsibility terrified me. At first. Somehow I had to find a way to wrestle $99 worth of entertainment from the library, and I only had a year to do it. It would never work.
With a tentative search I came across "Tighten Up Your Wig" from the album The Second by Steppenwolf. Here was a song that meant so much to me when I was young, an anthem of opposition to narrow-minded, iron-fisted blind bureaucracy with a brief tribute to the blues. I started to breathe again. There was some good stuff, you just had to look.
Soon, I was listening to the entire performance of Jefferson Airplane at Woodstock. I couldn't believe it. Two hours and 24 minutes of music, real music, my music. Next, I found a Grateful Dead concert from Philadelphia; it was over four hours long. There was so much music I almost cried. I couldn't listen to it fast enough.
On a whim I decided to start comparing different versions of the same song. First up, Superstition by Stevie Wonder vs. Superstition by Stevie Ray Vaughan.  I had to go with the original by Stevie Wonder. It was so funky, so moving, so deep, so filled with electric, significant portent. Stevie Ray Vaughan was a guitarist with some amazing chops, but the original just had too much. I started polling my co-workers, who either agreed with me or didn't care, and wondered aloud and pointedly if I didn't have anything better to do. Is there anything better?
It wasn't long before I started assembling playlists of one song. Several artists, different interpretations, translated from genre to genre, twisted, embellished changed and still the same. How could they do that?! It was an amazing experiment.
Here are my findings so far. My favorite version "Baby Please Don't Go" is by a crazy band from Northern Ireland called Them. Van Morrison was the lead singer and I grew up listening to "Moondance" and "Brown-Eyed Girl," I even have some of his later stuff, "Precious Time," for example. But this was different, edgy, angry, powerful, all soaked in the rock/blues power that swept through the UK in the sixties. I'll never look at him the same.
There are just way too many versions of "Blowing in the Wind" to even compare, it would take days. So I just assume Dylan's version is the best. It is Dylan, after all.
In a "discovery" that will surprise no one who really knows me I found that in almost every case any song that the Grateful Dead covered I enjoyed their version the most. Including "You Win Again" originally by Hank Williams and the epic "Senor, Tales of Yankee Power" from Bob Dylan. Though, technically that was the Jerry Garcia band, I'm not that fussy. A surprising exception is "Dear Mr. Fantasy" by Traffic. Strangely enough, though, my favorite copy of that song is one performed by Steve Winwood and Jerry Garcia. Go figure.
Of course, there are some songs that just defy being performed by anyone else. I don't even like to think about "Sympathy for the Devil" being sung by anyone else. When he sings "So if you meet me have some courtesy, have some sympathy, and some taste use, all your well-learned politesse or I'll lay your soul to waste, mmm yeah" it is easy to imagine it's the devil singing. I know there are several other copies out there, but they are going to have to rely on somebody else for downloads.  Hey, I have standards.
In one instance my life was changed forever. I can look forward to traffic jams. Unfortunately, they installed a "smart lane" on the freeway greatly reducing gridlock and I can get home in the time it takes to listen to "Carry On, Live" from Four Way Street, by Crosby, Stills, Nash and Young." Recently, though, my choices have been creeping forward in time. The Eighties and the MTV era. My tastes begin to expand. Who knows, maybe one of these days when one of my sons shares a song, I will be able to appreciate the beauty that went into its creation. Till then to my lovely, long-suffering wife, who has learned to suffer foolishness gladly, "Thank you". Apple Music is not the best thing that has ever happened to me, but it is the second, unless my sons are reading this, then it is fourth.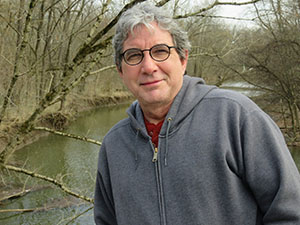 Tim Clark lives in Columbus, OH. He is an employee, a husband, a  father and a blogger. You can see his blog here, Life Explained. He writes occasionally and with pride for Street Speech, a local homeless advocacy newspaper. He is contributor for The Ugly Writers and the Good Men Project. He is particularly vain about his monthly column on The Wild Word. He is working on a novel.