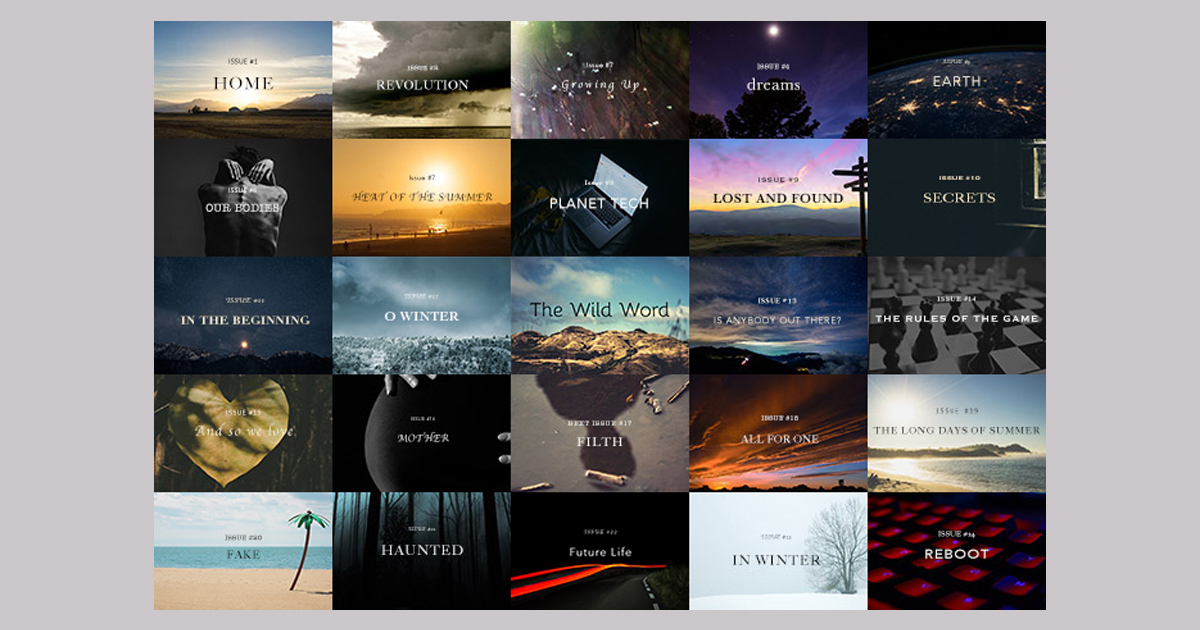 Hi, we're The Wild Word…
An online magazine for passionate people, run by a rag-tag bunch of visionary, unashamedly left-wing enthusiasts for the written word.
For two years, The Wild Word (or TWW as our affectionate insiders call it) has delivered a great monthly online magazine. In that time, we've had dozens of our articles picked up by the Huffington Post and our parenting columnist was recently featured on US morning TV. We've published fiction writers who've gone on to publish novels and anthologies, and one of our artists-in-residence won a prize for a piece he created especially for his TWW residency.
In short, it's great content.
And it's all produced and made available for free, with no advertising. We're a true independent magazine, powered by volunteer energy.
It takes a lot of time and hard work to produce. But we do it because we believe our voices matter – and that by speaking up, we represent the people who share our perspective, and those whose voices can't be heard.The start of the dream…
TWW was started by Kusi Okamura. Originally from Ireland (you can tell by her name), where she worked in journalism, these days Kusi is a Berlin-based mother and entrepreneur. After her children were born, Kusi started dreaming about a platform for arts and issues, a place where people's creativity would be on show and their voices could be heard. So she started it from her back room. Along the way she figured out how to build the website, and sought out great writers, artists and musicians and convinced them to come on board.
Erin O'Loughlin (who isn't Irish, despite the name) submitted some fiction to one of the first issues, and over coffee with Kusi she found herself irresistibly drawn to Kusi's enthusiasm and vision. She became Associate Editor, then Fiction Editor, and has never looked back.
We cover the issues we care deeply about, with monthly columns on the environment, feminism, politics, social justice, parenting, and mental health – with a generous side helping of arts, poetry and fiction.
Now, we're asking our readers to give a little something back, so that we can continue to produce great content, and to launch our next passion project – a small publishing press, to help writers we love become published authors.
It's all about the give and take…
Ever heard someone say "I'd do it even if I didn't get paid?" Well that's how we feel about the magazine. Except we actually don't get paid.
Our aim (okay, dream) is to make the magazine a self-supporting platform, one where we can pay our contributors. For now, we'll keep putting out the good stuff, month after month.
Meanwhile, we've got bills to pay.
– Like the cover artist for the upcoming novel we're publishing, a genre-bending cyberpunk, facebook-punk (we're coining the term), noir, LGBTQ novel that the world needs to read.
– And print copies of our poetry and fiction anthologies from the first year, for all the poets and writers who have entrusted their work to us (for free, y'all. These amazing artists let us have their work, even though we couldn't pay them. We really owe them a book).
– And all the coffee and co-working cafes that go into getting the magazine out each month.
It's a fairly modest amount. We're not asking for the moon (but if anyone has one to donate, we wouldn't say no).
In return, we're offering rewards like:
– Undying Thanks – to anyone who donates €1. We will eventually shuffle off this mortal coil, but our thanks will remain forever.
– Eternal Thanks – not just our thanks for all eternity, but your name in the thanks section of The Wild Word. And you know that's priceless. (But we've put a price on it, which is €5.)
– Our Love & Resistance buttons, with artwork from the magazine's talented artist Ashling Keever. Because there's never been a better time to love and resist. For every €10 donation, we'll pop one in the post to wherever you are.
– For €15, you get eBook versions of our first poetry anthology, or if you prefer, our first fiction anthology. Featuring all the work we've published in the first year of the The Wild Word, these will be the first in an annual series.
– But why choose, when for €20, you can get both the poetry and the fiction eBook. Check out the way the covers fit together to make a set. They'll look so pretty on your kindle.
– For a €30 donation, you'll get both the eBook and the printed version of either the poetry or the fiction anthology.
One of our biggest loves at The Wild Word is the chance to nurture writers, and that's why we're offering two Writer's Perks.
For €10, we will offer you a full short story critique. Get feedback on what's working and what needs work, from the people who know.
For the bargain price of €100, we are offering full book manuscript critiques. This is a service that would normally cost at least €400. We will critique the characters, plot and story development of your masterpiece, whether it's in progress, or already completed.
And of course, we'll keep filling the magazine with great poetry, fiction, art and commentary every month, whether you donate or not. But please donate.
The Impact
Your donations will make a big difference. They will help us to set up the publishing press, publish our first three books, and build a small shop on the magazine website to sell them.
This is the seed money that will help the magazine become self-supporting and profit-generating.
This is the kick-start for the magazine as a small business and not just a passion project.
We really believe in these projects and they're already underway. But a little help from our friends will go a long way.
Risks & Challenges
Whenever you rely on volunteer effort, there's the risk that talent will be poached. We've already had other publications approach some of our writers. Luckily, they believe in The Wild Word as much as we believe in them.
Your donations will mean that we'll be on our way to setting ourselves up as self-supporting and profit-generating. So that eventually we'll be able to give our writers some payment and not just gratitude.
Other Ways You Can Help
If you can't contribute right now, that doesn't mean you can't help. Some other ways to support The Wild Word are:
Get the word out about our campaign – the more people who know, the more people who might donate, or might drop by the magazine to read something. Use the Indiegogo share tools to spread the word!
Drop by the magazine and read something. Sign up for our monthly newsletter.
Share our articles – help us spread our stories deeper into the wilds of the internet.
Submit something – we're always looking for great content. Check out our calls for fiction and poetry submissions, and the monthly themes, and send us your best work.
Working with The Wild Word has been a tremendous pleasure. The journal is beautiful, relevant and ambitious; Kusi is a subtle editor and a perceptive, enthusiastic visionary. I so look forward to what she does next.
Before encountering the opportunity on The Wild Word's website, I'd never heard of an online Artist in Residency (o-AiR).  What a bright beam-of-an-opportunity it provided me–into corners of poetry I'd not yet explored.  For example, while poetry shadows have ben on my mind, the o-AiR was where and when I first discussed them.  While many artists have likely enjoyed a traditional place-based residency, Kusi Okamura and her team have opened a whole new opportunity in e-space to dance, prance and cavort.  Yes!
My artist residency made me create things that I wouldn't normally do and taught me things about writing I didn't know. I'm very appreciative.
I was invited to be the "Artist in Residence" for The Wild Word magazine for March of 2016. I wasn't exactly sure how to go about this exercise but with the wonderful assistance of Kusi I told my pottery story and made a piece of pottery sculpture over the month while 'in residency'. Kusi referred back to the work, asking questions and probing my ideas, and so I added new stories to the profile, sent off a video of the making of the work "Hopeless Dreamboat Money-box", opening up a discussion on the refugee issues as handled by the Australian Government. The whole experience was exciting, it kept me motivated and working and to top it off the work won the religious art prize at a Melbourne gallery. I thoroughly recommend the experience with The Wild Word magazine to every artist.