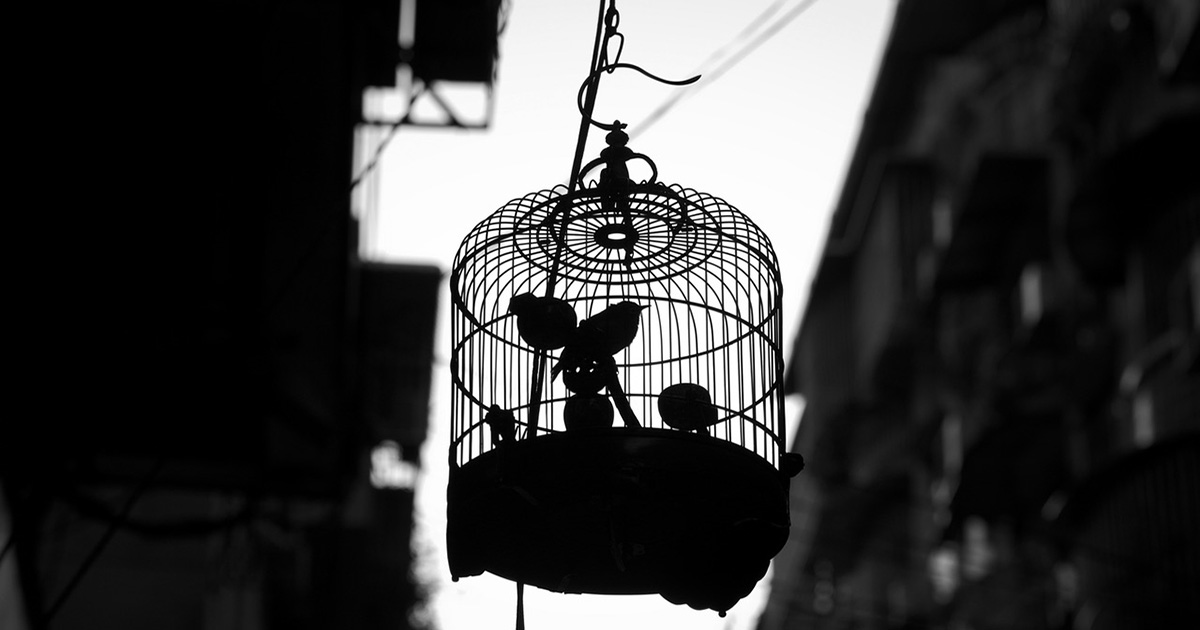 Soul Cages
In the middle of the Neues Kranzler Eck in Berlin, two minutes walk from Zoologischer Garten, there are two large bird cages. In the cages there are birds. Tropical, colourful, and caged.
One morning I arrived in Berlin on an earlier train than usual and way too early for work. To kill time I decided to walk to school. It was a warm morning with the promise of a lovely day. The walk took me past those birdcages.
At that time of the morning, it was just after seven, my mind is at its most sponge-like. Early is good for my brain as it is not yet cluttered. It is open to stuff and I am able to see things clearly. Sometimes it feels like I have taken or smoked something which has given me an exaggerated sense of awareness. But those days are behind me.
So I stood before them. The bird cages. Set in a square of high-ish buildings the two prism shaped cages pointed mockingly, the way out, up to a sky that the birds within would never know.
An immediate hot rush of anger flowed over me as I watched them gliding around within the restraints of the cage. They would pull up, as if slamming on breaks, in sudden surprise at reaching the mesh, the limits of their freedom. It angered me so much. One bird did this time and time again as if some instinct within it couldn't accept the presence of the restriction, even though it was forced to repeatedly recognise it.
When I was younger I had travelled through Spain and for a while, sick of, and from, picking chemically dusted mandarins, I found work with a circus. My job was to clean out and prepare the  elephants. Tarting them up for the evening show. At first I loved it. I was being adventurous, romantic. Like the authors I carried around in my rucksack, Laurie Lee, Hemingway or Kerouac. I was thin, windswept and smelt of elephants. But the attraction soon faded. Seeing, even hearing, them being persuaded to enter the ring by handlers with electric pokers wasn't pleasant. The young and very naïve idealist that I was wanted to whisper in their ears and say "Please". After they had performed they were hobbled and put out in enclosures to feed. But at night they were, still hobbled, chained to palettes, large enough for them to lie down on. Often they would stand up all night long and I remember, so clearly, seeing some of them sway from side to side lifting their feet as far as the chains would allow. I would sit on the straw bales and watch them, fascinated, until I realised what they were doing. They were marking time. They were doing what they would have done had they have been free, they were walking, roaming, but they did it in those chains which let them get nowhere. Their eyes were always dull. No wonder.
In Valencia, on Christmas day I left the circus and the elephants, emptied of certain romantic ideas and full of dislike for chains.
That morning in Berlin, watching the birds trapped, but permitted to behave naturally enough for us to delight in them being birds, caught in a small pocket of freedom surrounded by glass, concrete and metaI I felt a complete and utter hatred. Of myself. I was watching them and I could, would, walk away without doing anything to end this unjust cruelty I was seeing. Instead of pulling out a knife to break the net. Twenty years earlier and I would have done just that. I always carried an Opinel in those days.
On the way up the Ku'damm I tried to reason with myself. Now that I was older and wiser, I  understood that by freeing the birds I would be killing them. They wouldn't survive in the wild, especially not in a city. Moreover, trashing the cages would be vandalism. Blah, blah, blah. On and on my thoughts went gradually freeing me from the responsibility of having to honour my own values. I was copping out with the argument of reason.
I was as much caught up in the system as the birds. I was trapped too. And I had to go to work.
The Kurfürstendamm is one of the busiest streets in Berlin. But not at seven in the morning. The shops don't open in Germany until ten. It was almost empty of people. No shoppers, tourists or building workers. Few cars and even fewer buses.
As I walked along I looked around, back in my sponge mode. Shops without shoppers, doors closed, are just buildings. Lots of glass. Dark inside and lifeless. Turned-off televisions whose screen reflect the room that they are in. Passing a sportswear shop I saw, on the other side of the glass, a cleaning woman working with a vacuum cleaner. Who calls them that these days? She was middle-aged, small and obviously not German. Polish perhaps. She had a worn down look about her as if she had not been properly cared for as a child. The doors were locked and she was inside. The glass separating us. I watched her for a while and thought to myself "Here's another bird". She wasn't happy there in that shop full of bright, shiny things. That was obvious from her expressions. She wasn't in her natural habitat either. She never looked up, out through the glass doors to the outside world. I couldn't help comparing her to the birds. "Smash the glass, let her out" I thought. Yeah, yeah. More misplaced idealism.
Walking on, enjoying the sunshine and the thought of going to work, I recognised that instead of having to fight in order to destroy cages we should fight against the building of them. We should not trap anything in the first place. But that is easier said than done, of course. And what about the woman cleaning the floor of the shop? How would she cope without her cleaning stuff? It was all she had.
I was on my way to school. To do some storytelling.
School…Storytelling…
A long time ago my sponge mind had soaked something up by Rumi…  Nothing much but…
As I walked along the empty street I let the story weave itself in my mind…
There was once a very rich merchant who came from the south but lived in the north of the country. He was good at being a merchant and had grown very successful. With his profits he had built a large fine house. The merchant was proud of his wealth and wished to display it.
In the hall there were two striking staircases, built to form the shape of flower petals, winding up to the upper floors. He had a library built, the shelves of which he filled with expensive and rare books. The important books he displayed at lower levels so that guests would see the titles and be impressed by his knowledge. In all of the rooms there were fine tapestries and rugs. The dining room was decorated with bright colours, not gaudy but lively. A large mahogany table dominated the room. There was an abundance of silver candelabra. Paintings and long heavy curtains covered the walls. The many bedrooms were no less splendid and guests always marvelled at their airy nature.
To keep the house in order he had a butler, a cook, and some servants. He regularly invited people to dine with him in order to show off his wealth and his taste.
On warm evenings, when he was alone, he would sit in the fine garden, which had been created by the best designer in the land, and would enjoy the perfumes of the flowers on the fresh air while he drank expensive wines. It was all very magnificent.
But the garden was not complete. He felt that something was missing. He wondered long and hard about what that might be and one day decided that he needed a song bird. To remind him of the sound he had heard as child when he had lived, in the south, near to a huge forest full of birds. Yes, that was it. He needed a song bird.
He sent for a trapper and paid him to travel to the forest where he had lived to catch such a bird.
When the trapper returned with a beautiful song bird in a gilded cage the merchant was very happy. He hung the cage in a small pavilion in the garden and would sit and listen to the song which did indeed remind him of his youth.
His guests, amazed by the staircase, the dining room and the garden, and impressed by the books in the library were charmed by the bird in the golden cage. The merchant revelled in this. From then on he needed no excuses to invite guests and they in turn needed none to accept his invitation.
One day the merchant decided to travel back to his birth home in order to do some business. In a generous mood he went the butler, the cook, and the servant and asked them if there was some gift that he could bring them from his journey. The butler asked for a special jacket, found only in the south, that would make him stand out more and therefore better reflect the merchant's taste. The merchant wrote this down in a little notebook and went to see his cook. Who asked for spices that could not be found in in the north and which would make the food he put on the mahogany table unique, once again reflecting the merchant's taste. This too was written down in the little book. Next he asked his tailor who said that he wanted a special cloth of a colour only found in the south so he could fashion a cloak for the merchant. He wrote this down, smiling. The servants also asked for things that would improve their work and thus the merchant's pleasure. He was happy about this.
The evening before he was to travel the merchant sat alone in his garden and meditated. When he was finished he heard a voice behind him.
"And what about me?"
The merchant looked around but could see no one.
"Yes, me. What about me?"
He saw that it was the bird that had spoken.
"What about you?"
"Well, you have asked everybody what they want but you have not asked me."
The merchant went up to the bird and asked him what it was that he wanted.
"I want you to open the cage for me. Let me out. Set me free. You will not be here to enjoy my song so let me out."
"But I will be return and then I will wish to hear your song. Besides, you are the most wonderful thing in the garden. My guests would be so disappointed if you are no longer here. I'm sorry but I cannot let you out."
"I thought you would say that. So, please, I want you to go into the forest near your home, for you and I come from the same place. I want you to go a hill in the middle of the forest where the trees are taller than all the rest, whose leaves are of a green incomparable with other leaves on any other tree. There I want you to shout out to the birds about me. Tell them that I am locked in a cage and cannot return to them. For they are my brothers and sisters, my uncles and aunts. My family. Tell them so they will know and no longer be worried for me. Tell them that I live and, but for this cage, I would fly with them again in that forest."
"This I will do." Said the merchant.
He left the next day riding his favourite horse. He was accompanied only by a few servants.
A week later, after a pleasant and peaceful journey, he arrived in the land of his birth. He went to his family home and got straight down to business.
After he had spent some time with his family he went into the city and took out the little notebook with the list of presents. One by one, as he bought them, he ticked the items off and soon he had all that was required. He prepared to travel back north, to his beloved home.
The journey up was as uneventful as the journey down had been. As he rode along the edge of the great forest he was glad to hear the bird song that reminded him of his youth. It also reminded him of the bird's request. He ordered his servants to wait for him and walked into the forest. It didn't take him long to find the place. The hill with the greener-than-green leaved trees.
He climbed to the top of the hill and began to shout. At first he felt this to be a stupid thing to do but it was what the bird wanted and so he shouted louder. The forest fell silent. As if every living creature there was listening to him. He was quite enjoying himself now. He told the forest everything that the bird had asked him to tell and then he stopped and listened to the silence. He heard a rustling sound above him and looked up. On the tallest branch of the tallest tree he saw a bird. As beautiful as the one in the cage in his garden.
It was wobbling. Then it leaned out from the branch at a strange angle and, twisting in the air as it fell, thumped onto the forest floor below.
The merchant was shocked. He sat down and he realised that his words must have killed the bird.
"Surely, it was one of my bird's brothers or and sisters. Perhaps even his mother. The news I gave them has broken its heart."
Pale and saddened the merchant left the forest and returned on the journey back up north.
A week later he arrived, cheered up now that he was home again. The butler looked splendid in the new jacket. The cook was delighted to be able prepare even more astonishing meals and the tailor got straight down to work on the new cloak. Oh how happy he was!
But he avoided the garden. He was afraid of telling the bird what had happened in the forest.
Some days later he had guests and after the dining and the drinking were over they all went to sit in the garden. It was lovely warm evening and the bird was singing. The wine was smooth and the conversation light. It got late and his guests left. The merchant found himself alone in the garden.
"Well?"
At first he tried to ignore the bird.
"Did you do as I asked?"
He went to the cage but couldn't look at the bird instead he stared down at the ground as he spoke. He was sad and a little ashamed, but he told the bird, in every detail, exactly what had happened.
When he had said all that there was to say he looked up and saw the bird.
It was wobbling. It leaned out from its perch at a strange angle and fell onto the cage floor. The bird lay lifeless on its back.
The merchant was so shocked that he didn't react at first. He just stood there staring at the beautiful bird feeling a deep shame. Then he tore open the cage door and reached in. Carefully he picked the birds body up and held it to his heart.
"I must have killed it with the news, just as I had killed the bird in the forest. It is my fault. I have  broken their hearts."
Tears began to fall from the merchant's eyes as he held the bird in the palms of his hands. Then he felt something and he saw the bird stand up, spread its wings and fly away. His tears of joy turned to laughter as he realised what had happened.
He never put anything in a cage again.
* * * *
When I got to school the story was ready and so I told it. I have done many times since. After one class a student said to me that he found school classrooms to be cages and that he felt that he was trapped within their walls.
"Well" I said to him, "that depends doesn't it…"
This is one of the reasons why I became so interested in storytelling. Through telling such tales I have the chance to show people that there are ways with which we can empower ourselves and  find ways of escaping the traps that seek to keep us in our places. Of course, it is better to avoid those traps in the first place and education is a great tool for this but sometimes we find ourselves caught in traps that are not of our making and then we must rely on help from others.
The question most asked about this story is if the bird in the forest died or not. I never give an answer because I do not have one.
Christian Rogers
March 2017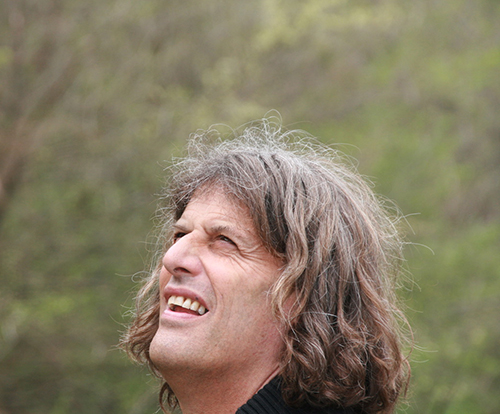 Christian Rogers is a storyteller and performer. A Welshman born and schooled in England, shaped and formed in Wales, France, Spain, Portugal, Italy and Holland and currently living just outside Berlin on a small holding. Phew! He has been performing for just over 30 years most of which have been on the streets of Europe. He has lived in Germany since 1998. He formed the Fleapit Theatre Company in 2001 with Kerstin Otto the renowned and prize winning storyteller and together they perform traditional Märchen with an anarchic twist with the aim of bringing folk tales back to the folk. Until recently and for many years they were the artistic directors of the Weberfest in Babelsberg. As well as having been engaged in many schools in Berlin, working in German, he has been the resident storyteller in the Nelson Mandela School since 2010 and the International School Berlin since 2011. He runs storytelling and performance workshops for both children and adults and works with a number of consulting agencies as both a storyteller and running workshops. He has also worked with the Landesinstitut für Schule und Medien Berlin-Brandenburg. He is the official storyteller for the Vapiano restaurant company.