By James Prenatt
A year ago today, I brought my stepson to meet my family for the first time. In a previous article I cited this as one of the times I realized I loved him, but now as I look back that was not the precise feeling. The precise feeling was that I felt like a father. I think my heart grew like in The Grinch, which is really freaky if you think about it.
What I neglected to mention was that that day was Mother's Day. The flowers by the poolside were in bloom and the wind brushed petals across the lawn, across our skin. He took to my family almost immediately. We went on the same walk that I used to take with my parents when I was his age, to the pond where a willow tree rests wearily in the sun and there is a bench you can swing on, now covered in moss and rust, barely standing. As he excitedly led the way I felt a rush of pride. I brought this boy into my family, even though he wasn't mine. I gave my mother a grandson. My wife and I had been through a traumatic period in our lives and it was just the kind of healing that we needed.
I was lucky to have a good relationship with my mother. She home-schooled me until I was a teen, so I spent a lot time around her. I awoke each day to her kindness. She fixed me breakfast (waffles with lots of butter and syrup upon my request) and sung me to sleep. She taught me how to read and write. She was there for me when I was a heartbroken emo kid, hung up on my first girlfriend for months. Without her help I never would've made it through my first year of college.
I am the third of seven children, which meant pregnancy was something I frequently witnessed. So was infancy. I was the oldest and first boy and when my oldest sister came to hold me in the hospital my other sister slapped her hand and said, "My baby!" The three of us became the most parental out of the family. I would watch my mother grow and when the children were born I would watch them grow, too.
There was a certain feeling of helplessness as I watched her struggle to raise us. For a long time my family did very well financially, but in 2008 when the market crashed money became a constant struggle. I watched as they sold every beloved farm animal we had, traded and sold their cars, the barn they had bought and whatever else it took to make ends meet. After taking us to school my mom worked until seven, sometimes later at night while my dad got home at three in the afternoon. He looked for a second job, but could not find anything. All the while, they kept us in the activities we loved, namely martial arts, which several of my other siblings did. This meant getting up every weekend for practice or to take us to a tournament. This also meant she never got to see my father.
It didn't end there. In 2010 my father was diagnosed with Early-onset Alzheimer's. He retired early that fall, which meant only Mom could work. Luckily, she had found a professional job by then. She had gone from a housewife to the breadwinner, all while slowly losing her husband. Four years later, the house was lost too and she and the rest of the remaining family had to sell it and move out. By then, my father had to move into a nursing home.
My parents lived the American Pastoral Dream and it was all ripped away from them. Again, I felt helpless.
Today I reflect upon my marriage and all that my wife and I have been through together. She was there for me when I was a broken man, who didn't think he deserved any kind of love and thought he'd never have children. She was there for me as I struggled to get my poetry published. She edited my essays and helped me with grad school applications. She was always there to talk when I was feeling suicidal. She helped me apply to jobs when I felt like I'd be stuck moving furniture the rest of my life. She edited my novel as I doubted time and time again whether or not the story deserved to see the light of day. Last summer when I came down with shingles and viral meningitis she visited me in the hospital and made sure they took care of me properly. When I got out she worked full time while making the drive to see me, to keep track of all my meds and wake in the middle of the night to inject antibiotics into me via the PICC line they had put it, to clean and walk the dog and cook for me, all things I couldn't do, all while still managing to raise her son.
That was before we were even married. Now she's there for me through every rejection slip and long, miserable day. She's always the first to see my writing and even proofreads for me. I keep confessing to her how impossible and daunting life seems, but she tells me simply, "It will get better. It got better before and it will again." On a word document for one of my manuscripts I had left blank that day, unable to get a single word on the page, she wrote "I believe in you."
I still feel helpless because I want to go back in time and be there for her when no one else was, during her pregnancy and when my stepson was a newborn, through heartache and loss. The list goes on and on.
Perhaps being a husband to a mother isn't much different than being a parent to a stepchild, or any child for that matter: you want to save them from everything, but you can't. I cannot change the past, nor can I change the future. I hope that my wife will never have to experience the immense loss my mother went through, but I know that if she does, she will persevere. Mothers are built that way.
To two of the most badass women I know: thank you. Happy Mother's Day.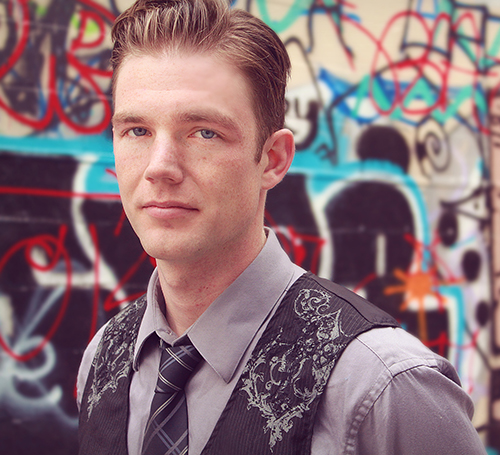 James Prenatt lives in Baltimore, MD with his beloved wife and stepson, who tells lovely stories about bunnies and crabs. He writes fiction and poetry along with contributing to blogs such as Everything for Dads and Parent.co. He likes punk rock, good movies, and bad coffee.