Morning Thoughts (It Is, Part I)
How will you touch me? How
I will touch you? Who will your skin
be beneath my hands? Will it come
live telling stories of wearing you
for fifty years before me? How
will it smell—of every moment gone
before you, or of nothing but the rain?
What is the scent of the rockmelon
compared to the taste of its peachy
flesh behind my lips? The jasmine
vine stretching upward announces
it's waiting before I ever see it. I
stop like that. Its pulse finds my
heart. Lifts it. Will it be like that?
Being Frank: A Daughter Reflects
Neither of you spoke
with the same accent,
or made the same
vowels. His O was an Aw and
your O rolls like a wheel. His
coffee was caw-fee and yours
cough-ee. His A was an Ah,
or an -Er, if it came at the end
of a word—a bananer, Georgier,
or dat-er. An -Er ending was
an A, as in hamma. Your A
is flatter than the earth
in the early 1400s. You discover
this by listening to the vowels Down
Under, a place where neither of you
comes from, on a day when you've
worn his "Be Frank" shirt
for the first time in the four years
since you took it from his closet. Now,
he is far enough away to return only
by dream. He didn't teach you silence.
He taught you words, lilts, and sounds.
He taught you to listen. This was enough
just as much as it was never enough.





The Wish
The tender crack of the wish
bone reminds me that I've held
the same wish, like a breath, for as long
as I can remember. My wish has never
wavered, though sometimes, unlike
today, the bone has broken in my favor.
Now my son pinches the lucky side
between his finger and thumb. He sees me
holding the stubby side and is astonished,
as I would've been, at fifteen,
to imagine that what I long
for might possibly come
true. How could anyone hold her
breath for almost fifty years?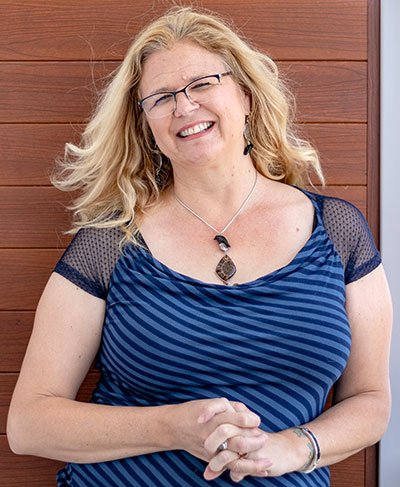 Kimberly Williams is originally from Detroit, MI. She now lives in Australia whilst pursuing a PhD and exploring the country. She has one full-length collection of poetry, Finally, the Moon, published by Stephen F. Austin University Press.