AN INTERVIEW WITH SABINE MENZEL, ICE CREAM-MAKER EXTRAORDINAIRE
Why did you want to open an ice-cream shop?
I've worked a lot in catering and gastronomy, and love everything to do with food, plus I always dreamed of being my own boss. So after following the very interesting artisan ice cream movement in the US and the UK for a few years, and working for a Berlin ice cream manufacturer I jumped at the chance of opening my own shop when it came along.
What research did you have to do?
I started with buying myself a semi-professional home ice cream machine and tried out many, many different recipes (Oh happy times for my family and friends). When I decided to really 'go for it' I did a professional ice cream course where you learn all the things necessary for bigger production, including about the machines and hygiene standards.
What's your favourite flavour?
Salty Caramel. Strawberry. (But not together) Also, dark chocolate ice cream with cassis sorbet and a dash of cream.
How often do you eat ice-cream?
Believe it or not – I still eat ice cream every day. I call it "necessary quality testing", but in truth I do it for pure joy. These days I'm very much into figuring out the perfect flavour combinations.
What's your favourite part of your job?
Meeting many different kinds of people. I love that the enjoyment of ice cream has no age, gender or social restrictions. Be it kindergarten groups, teenagers, professors, builders, work colleagues, lovers, friends, fathers with their daughters, whole families… Eating ice cream is something that brings people together to enjoy life.
What's your most popular order?  For adults, and for children.
Double Trouble, Peanut & Brownies and Rocky Road we can hardly keep up with production. Salty Caramel and Earl Grey ice cream also have a big fan club. Kids especially love Mango, Cassis and Vanilla.
What's the most ice-cream someone has eaten in one sitting at your shop?
I once had a couple who each ordered 6 big scoops, that was impressive. On the other hand, some customers keep coming back for top-ups, probably by far exceeding 6 scoops.
What traits do you need to have a successful ice-cream store?
You have to be resilient, hard-working, and ideally have no time boundaries. A seasonal business is a wonderful thing, but as soon as the season starts there are no breaks – you work every day, and for long hours. You also have to be willing to work when the weather is most beautiful and everyone is enjoying themselves. Being good with people, and having business and management skills are helpful, too.
What are your plans for Henrys? New flavours?  New recipes?  Expansion?  Ice-cream world domination?
Although winter is our 'creative period' where we invent new concoctions we constantly think of new flavours (often being inspired by customers' wishes). Currently we are also working on a vegan ice cream based on rice and almond.
Expansion? We're super happy where we are and have not really considered opening more shops, but we are open to new developments, if they feel natural and right.
Henrys Eis, Schoeneberger Str. 11, 12163 Berlin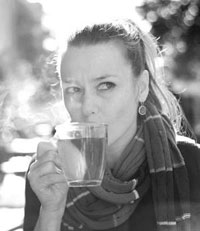 After 10 years living in the London area Sabine returned to her hometown Berlin. She's a trained physiotherapist and yoga teacher and has worked in the health sector for many years. The hours she doesn't spend in the shop or making ice cream she's digging her garden with the ultimate life goal to feed herself and her family from her own produce. Henrys is named after one of her cats – a big red tom who just knows how to enjoy life to its fullest.