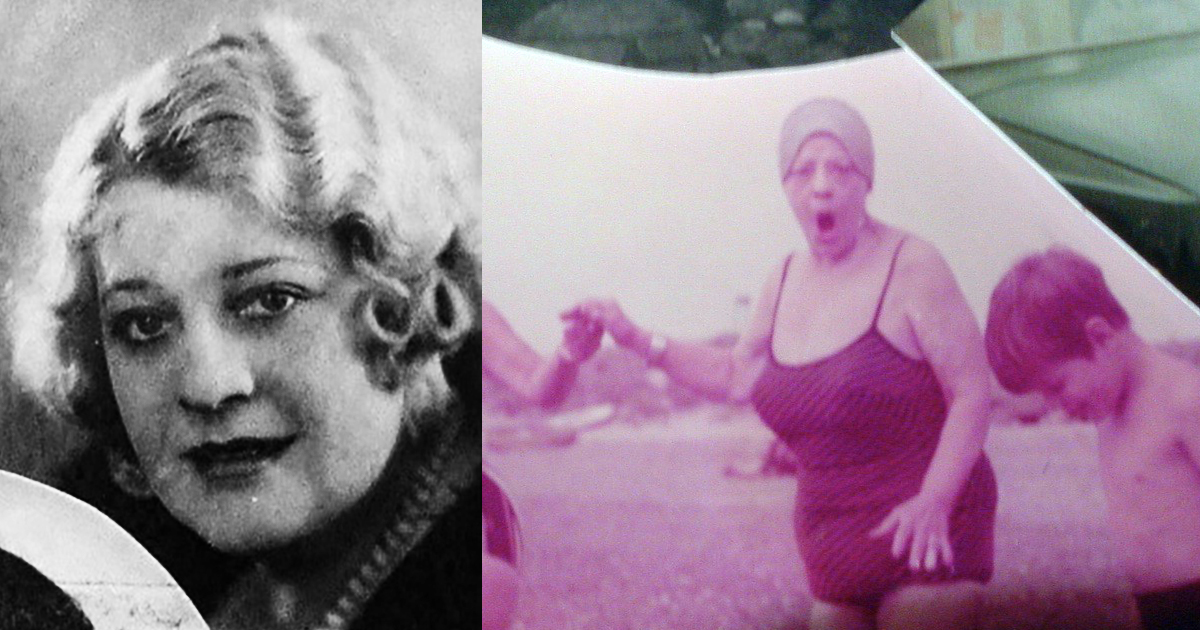 Out of the Shadow of the Tree
My grandmother died just as she was about to turn seventy-five. I was thirteen years old. I had not had much contact with or even seen her for a few years because we were living in Devon which is far away from London. At the age of thirteen a few years is a long time. Growing up so fast it is easy to forget about people who are at least out of sight and I only remembered her as an old woman, older than all the other grans of my friends because she had had my father at forty-nine.
Nan was a large woman in so many ways. Larger than life and full of charisma with a manner that was easy to warm to. She was funny. Not in a comical sense like someone who is always cracking jokes or doing mad things—she was just fun to be around. Her eyes had a benignly mischievous look and she was always smiling in a way that made me smile too.
She was simply funny. Different. Odd. I thought so anyway.
Perhaps other people saw her in a different light but these are my memories.
Those memories are few but they are very vivid.
When I was very small we lived in her and my grandfather's house, on the floor above theirs in sparse rooms without much furniture. We were not well off and money was tight. It was the mid-sixties, a time when post war austerity had not yet been forgotten and todays rampant materialism was unheard of. Working hard and saving up for things was what everybody did. With both my parents having to work at running a business my Nan looked after me. She would pick me up from primary school and take me home. She would feed me lukewarm baked beans on toast soggy with margarine one day and spaghetti hoops the next. The toast, brown on one side only, came out from under a grill above the gas cooker which was black and greasy. She had grown up in a house with servants and maids and I don't think that she knew how to cook at all but she could warm things up. The kitchen was not a part of the house that looked loved or lived in.
Out the back there was a messy garden full of weeds and cat piss which, on a hot summers day, gave off a smell I have never forgotten. Whenever I was sent off to play by myself or with my cousins when they came around it was to that garden that I went. It wasn't big. A typical middle-class terraced house back garden. Against a wall at the back was a lean-to potting shed full of empty plant pots, broken crates and a rusted lawnmower. This is where the cats lived. Whose cats they were I never knew. They came and went in and out of the garden and the house too. I think everybody in the street fed them which is why they were all fat. That explained the little craters of shit in the empty patches between the nettles and whatever else those weeds were. I loved the small white trumpet flowers that grew on creepers that wildly smothered everything else, except the nettles which win any game of 'who can be the wildest' in a wild garden. We called them granny-pop-out-of-beds because if you squeezed them at the base of the cup the flower head grew in then they popped out and floated down to your feet.
In the house the front room was very much my grandmother's domain. Here there was a piano on which she tried to show me how to play from a book where the notes were drawn as wide-eyed ants that danced on the staves. I remember lots of crotchets, semi-quavers and Nan's smiles all seen through clouds of cigarette smoke. Her painted pointed finger nails clacking on the keys.
In the corner, facing the television, there was a faded wicker chair in which she settled down every evening to watch her favourite programmes. Next to her on a curious tall but very narrow table there was a glass of something, which I didn't like the smell of, and her cigarettes, which curiously I did, When that awful, mournful theme tune of Coronation Street came on I was shushed and banished to the floor. I would play under the piano, parking my toy cars between the pedals pretending they were a garage. Once, wearing short trousers, I knelt in cat shit and vomited. She waited until Coronation Street was over before she wiped my knee clean and the vomit from the carpet. The cat shit was ignored and went crusty so I never played there again.
Sometimes, when my parents had their late nights out in town they put up a camp bed in my grandparent's bedroom. It was set it up between their separate beds. When Nan came in to go to bed she would pull the bedcover over my head so I wouldn't see her undressing. Curious as to why something was being hidden from me I peeped and saw her. She was a woman of considerable layers, mostly woolly, which as they were peeled away revealed plenty of flesh being supported by or contained within swathes of stretchy skin-coloured underwear which must have required as much effort to take off as to put on. So she didn't take them off. When she finally climbed into her bed and the light went out I was left with visions dancing on my eyelids that I rather not have had. Dear Nan.
I am fortunate now because I do not need to rely on memory to be able to find and understand Thelma Tuson. There are other visions to be had. There are plenty of photographs of course, one or two of which are on eBay. But more than that there are pictures that move. My grandmother had been a bit of a star in her time. She had been in the movies and today she can be seen on YouTube singing with George Robey who was known as "The Prime Minister of Mirth" and was recognised as being one of the greatest musical hall comedians of all time.
The hit song from the film was 'Anytime Is Kissing Time'.
Her name was Thelma Tuson and she was born in South Africa on the 24th of August 1900. In her late teens she moved to London, having won a bursary, to continue studying singing and to work in Operetta. She was a soprano and could sing in Afrikaans. She made a few records, the old 78rpm shellac discs, two of which I have found reviews of in the Gramophone magazine archives from 1928. They contain both bouquets and brickbats for her singing which is probably why she was known as a comedy singer thereafter.
Not much is known about her career apart from the two better-known films that survive today.
Chu Chin Chow was a much-loved comedy operetta which was made into a film in 1934. It is an Ali Baba story—'See Ali Baba and His Forty Thieves Plunder for Gold and Women!'  A review describes Thelma as portraying 'a richly funny Alcolom', the sister-in-law of Ali Baba himself. She is wonderful and gives a delicately sweet comedic performance. The same smile she provoked in me when I was little she provokes in me still whenever I watch the film. Then I was innocent and she simply charmed me, whereas now I am much older, a little wiser and I watch her acting with eyes educated in the same art as hers. Her talent is undeniable and her timing impeccable. Timing is my strength. It is the one thing I really did not have to work on as I learned to use my talents on stage.
It is supposed that talents skip a generation. That is to say that certain traits or behaviour that are present and developed in someone will also be present in their grandchild rather than the son or the daughter. There is no hard evidence for this so perhaps it is just a myth but I have a strong suspicion that it is true. Because I too have made a living out of performance and predominantly out of being funny. I cannot sing though.
Having estranged myself from my family in my teenage years I knew nothing about my grandmother's life or career except those few memories from my very early childhood. Nothing that could have influenced of informed me in my chosen career. I didn't see the films that she had been in or listen to any of her records. The last film she had had a bit part in had been made in the 1940s. It was all too distant for anything to have rubbed off onto me.
In my forties I returned to my family after a very long absence and became, naturally enough, curious about the past. With the help of scrapbooks and through listening to my parents I began to piece together a picture of Thelma, rather than my Nan, that would complement my memories. My father gave me a copy of Chu Chin Chow on video. It was grainy and old but watchable and I love the Arabian Nights tales. It is a good film and what a thrill it was to see Thelma as a young woman. She plays a slightly dizzy, scantily clad and overweight woman which gave the screenplay writers a lot of scope to put witty double entendre into the script. She sits around a lot, once on a swinging bed being pushed by two serving maids, while eating and being pampered. She must have loved that.
In A Date with a Dream, made in 1948, she has a blink-and-you'll-miss-it part. But it was her name, which could still draw punters, that went on the posters because everybody else was so unknown. The film is about young up-and-coming artistes trying to get a show together. The main star was Terry Thomas and it was the first film in which Norman Wisdom appeared. Both of whom would become legends. Thelma was billed as a 'rehearsing soprano' and that is exactly what and all she does. Strangely in one scene she appears directly after a juggler. When I saw that the hairs on my arms stood up. It was juggling that gave me my career.
So did I get my talent from my Grandmother? Certainly when I see her perform I know what it is that is making her tick. I can clearly see what she was doing with her character and studying her performance, focusing in on each nuance, I can relate her. So, perhaps I did inherit her comedy genes.
But there is more to Thelma's story.
She had had a son, she must have been very young at the time, who became an actor and would have gone to Hollywood had he not have died of tuberculosis shortly after refusing to sign a seven-film contract with MGM. He had known that he was about to die while he was making the film. His name was John Hoy and he had starred in the Cannes festival grand prize winning film The Last Chance directed by Leopold Lindtberg. In America the film received a Golden Globe for Best Film Promoting International Understanding.
The premiere in London was attended by both the King and the Queen and John was the star attraction.
How would our family have turned out had he not have died? It is a 'what if…' that haunts our family even now.
This of course debunks the generation-skipping talent gene myth.
So perhaps it just more of a case that an apple never falls far from tree. Some roll onto fertile ground out of the reach of the parent tree while others remain in the shadows.
A seed will grow where no shadow falls.
One thing is for sure, both of my grandparents were larger-than-life characters and while not eccentric they were certainly a little bit mischievous. My grandfather also had a wonderful sense of humour. After serving in and surviving two world wars, he became a theatre manager. He wrote poetry and knew a lot about literature. Apparently he was liked by all, especially the ladies.
Thelma married Bob when they were both in their mid-seventies. I was in attendance.
Down the road from their house there was a pub called The Popes Grotto where my grandfather would go for a drink every evening. Dirk Bogarde drank there too. Sometimes the whole family gathered there but I had to sit outside with my orange juice and crisps. In those day children were not allowed in public houses because of the licensing laws so I sat there watching the cars going up and down the Hampton Road listening to the grownups laughing inside. My grandad's laughter was always the loudest.
What must have I been thinking about? Listening to that laughter all alone outside the pub…
My favourite memory of my Nan, the one which brings me closer to me than all of the others, was sparked by her role as 'the rehearsing soprano'. After finishing practising her scales she leaves the sound studio and sees some people who had been wanting her to finish. She asks them if she had kept them waiting and when she finds out that they had she pats one of them on the cheek saying, "You silly little boy, you should have told me."
She would often do exactly the same thing to me.
A pat on the cheek of the silly little boy that I was.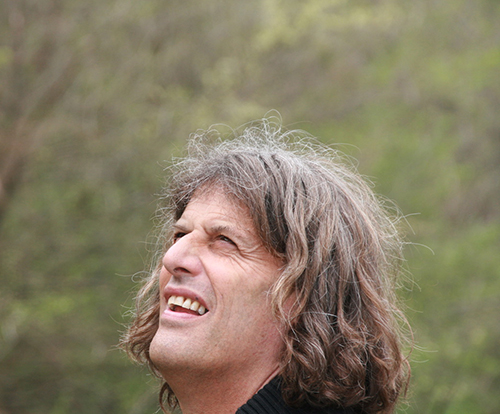 Christian Rogers is a storyteller and performer. A Welshman born and schooled in England, shaped and formed in Wales, France, Spain, Portugal, Italy and Holland and currently living just outside Berlin on a small holding. Phew! He has been performing for just over 30 years most of which have been on the streets of Europe. He has lived in Germany since 1998. He formed the Fleapit Theatre Company in 2001 with Kerstin Otto the renowned and prize winning storyteller and together they perform traditional Märchen with an anarchic twist with the aim of bringing folk tales back to the folk. Until recently and for many years they were the artistic directors of the Weberfest in Babelsberg. As well as having been engaged in many schools in Berlin, working in German, he has been the resident storyteller in the Nelson Mandela School since 2010 and the International School Berlin since 2011. He runs storytelling and performance workshops for both children and adults and works with a number of consulting agencies as both a storyteller and running workshops. He has also worked with the Landesinstitut für Schule und Medien Berlin-Brandenburg. He is the official storyteller for the Vapiano restaurant company.