By Caroline Donahue
This week has been one of the strangest I have experienced in my life, and I am sure that this has been the case for you as well. For the first time in our lives, we are experiencing something all together, regardless of nationality or location.
In the past, there have been unifying events, but for most of the world, we have witnessed them from afar. Now we are all together and the world has never felt so small. Let us remember that the origin of something beautiful is sometimes something awful.
How can we shift our perspective to open to a positive outcome? It is often writers who show us the way. We have long held the belief that people will fend for themselves in the face of crisis, but history has proven that this is not the case.
Rebecca Solnit wrote a beautiful book, Paradise Built in Hell, about the incredible community and support that was created in New Orleans after the Hurricane Katrina disaster. People reached out to each other and supported each other through those dark times.
Now, in the case of our need to social distance, it looks a bit different. Yes, there are stories of hoarding and the madness with the toilet paper, but the beautiful stories I am hearing far outweigh these examples. A produce company that normally delivers to restaurants transformed itself to deliver fresh fruits and veg to people staying at home virtually overnight. Distilleries in the US stopping usual production and making hand sanitizer instead that they are not allowed to sell, just so they can donate it to those in need. Every day I see these stories coming through my inbox and onto my screen.
Why do I see these stories? Because someone took the trouble to write them down and share them. It may feel silly to work on a writing project at the moment, but I promise you it isn't. What you write and share has the potential to uplift people in very difficult times. One of the most hopeful things we can do right now is read, and the reason we are able to do so is because a writer persisted in the face of all that was going on in her life and kept on writing.
What you write now might not be ready to publish during the pandemic we are now facing, but humanity will still need books in the future. And if you write and share things in a more immediate way, on a blog or your platform of choice, you can also be a voice for hope and help people living through this now.
Don't stop writing. Take care of yourself so you can continue. Lean on the books and writing that has come before you for strength and then keep going back to the page.
I remember when 9/11 happened, sitting in front of the television, spellbound, watching the same terrible footage over and over. I knitted a scarf so long it wrapped around my neck about ten times. I wish someone had led me away from the TV and toward my desk, handed me a notebook and said, "Write."
Get out your journal. Write for yourself first. Let the feelings out on the page so you can keep going. This counts. It all counts. Just keep going and remember these feelings and these stories. You can use them in your writing later, and sharing them will help others become stronger along with you.
Many of us keep hoping for things to go back to "normal." But I don't know if that is the best outcome. If we have written about what has happened during this time, about all the people who stepped up, about all the everyday heroes, then why would we want to go back to the way life was before? If we tell these stories and learn from each other, maybe we will get to a point where the pandemic has been overcome. And hopefully, on the other side of this, a better world will be the outcome.
If you are a writer, you are ready for this. We are good at working on our own. We are not only able to handle solitude, we thrive with it. So thrive. You've likely wished for a time you could set aside everyday routines and spend more time writing. That time is here. The world is calling our bluff—we asked for more time to write, and we got it.
What are you going to do with this time? If you use it wisely, it could be the origin of something wonderful. Get back to the page. We're all counting on you. Let's begin.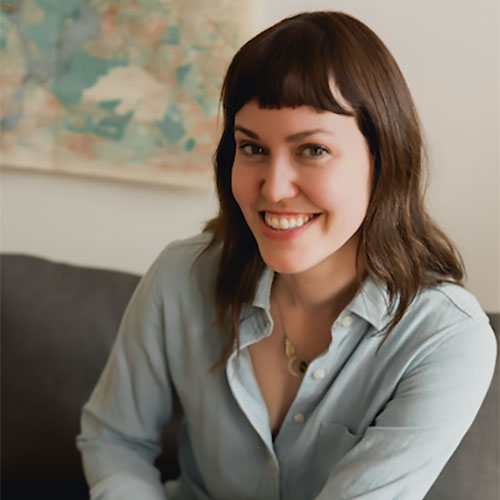 Caroline Donahue is an American writer, podcaster, and English teacher living in Berlin. She is the host of The Secret Library podcast and co-host of GTFO pod. She is the co-editor of I Wrote it Anyway: An Anthology of Essays, and the author of Story Arcana : Using Tarot for Writing. She is currently at work on her first novel.  Learn more at carolinedonahue.com