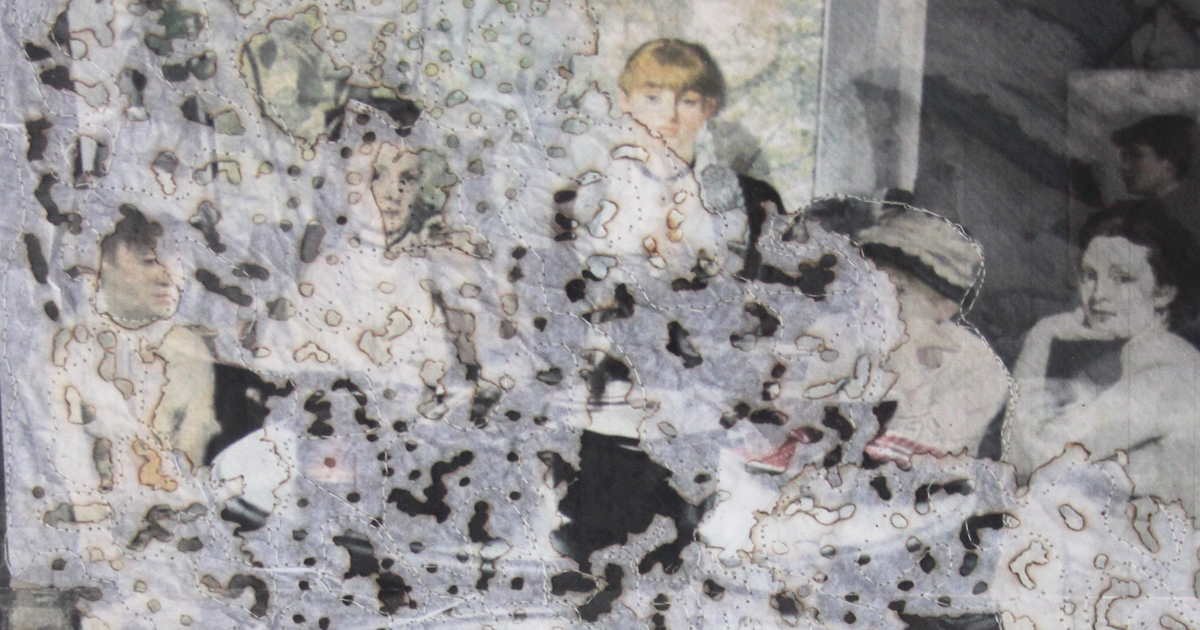 Victorine Meurent and #MeToo

Re-boot
verb
To cover again
To kick backwards
As I mentioned last week, I have been working on a series called #MeToo where I cut women out of classical and modernist paintings and seat them together at contemporary dining room tables to let them share their stories with each other.  With this project in mind, and as an American woman living in France, I cringed when I read that Catherine Deneuve and other prominent Frenchwomen published a letter denouncing #MeToo.  I know too well Frenchwomen of that generation who will read the letter and will now feel they have permission to close their minds to the discussion. My frustration with this brought me back to the theme of this month, "Reboot" and my series.
The letter in Le Monde claims, "A woman can, in the same day, lead a professional team and enjoy being the sexual object of a man, without being a 'slut,' nor a cheap accomplice of the patriarchy." This sentence led me to researching the life of model, Victorine-Louise Meurent, a well-known muse to a number of French Impressionist artists and a need to retell her story.
Meurent was the model for Manet's Olympia and I remember being told in my college introduction to Art History class that one reason the painting was scandalous is because she was a prostitute. While there are still holes in her biography, there have been a number of books written about her life proving she was not a prostitute. (She was not even Manet's lover because he died from syphilis and she did not.)
She was born to artisans and began studying art at the age of sixteen. She supported herself by modeling, giving guitar lessons, and singing in cafes. Meurent competed with the artists she modeled for and not surprisingly, rumors quickly circulated as she became successful (and that are still believed today) that she was a street person, a prostitute, and a drunk. We know she traveled to the US in her late twenties and took art classes at the Académie Julian when she returned. Her work was shown at the Paris Salon in 1879 and six more times afterwards. At the age fifty-nine, she was inducted into the Société des Artistes Français. She lived with her lover Marie Dufour, a piano teacher, for the last twenty years of her life in the Paris suburb of Colombes and died at the age of 83.
Paintings of Meurent, naked and clothed, hang in the Musée d'Orsay in Paris, National Gallery of Art in Washington, D.C., Metropolitan Museum of Art in NY, and the Museum of Fine Arts in Boston. Only one of her paintings still exists. It does not hang in a world-famous museum. It hangs in the Municipal Art Museum of Colombes, her former hometown.
In my reimagining of Victorine-Louise Meurent, I have seated around a modern breakfast table different versions of her with Suzon from Manet's "A Bar at the Folies-Bergère," who is also "rumored" to have been a prostitute. The women have paused mid-conversation and seem resigned, defiant, and even slightly amused. Hanging on the wall behind the table is Meurent's only known painting. The images are repeated to mimic the mirror in "A Bar at the Folies-Bergère" and represent the reverberation and rebirth that is happening through this conversation.
I have used old tissue paper saved from shoeboxes and burned it to resemble fragile lace, bandages and skin Rebooting forgotten bits. The paper is recycled, burned, and sewn together to represent both the fragility and strength of the women through the paper itself.
The old becomes new. The forgotten is remembered.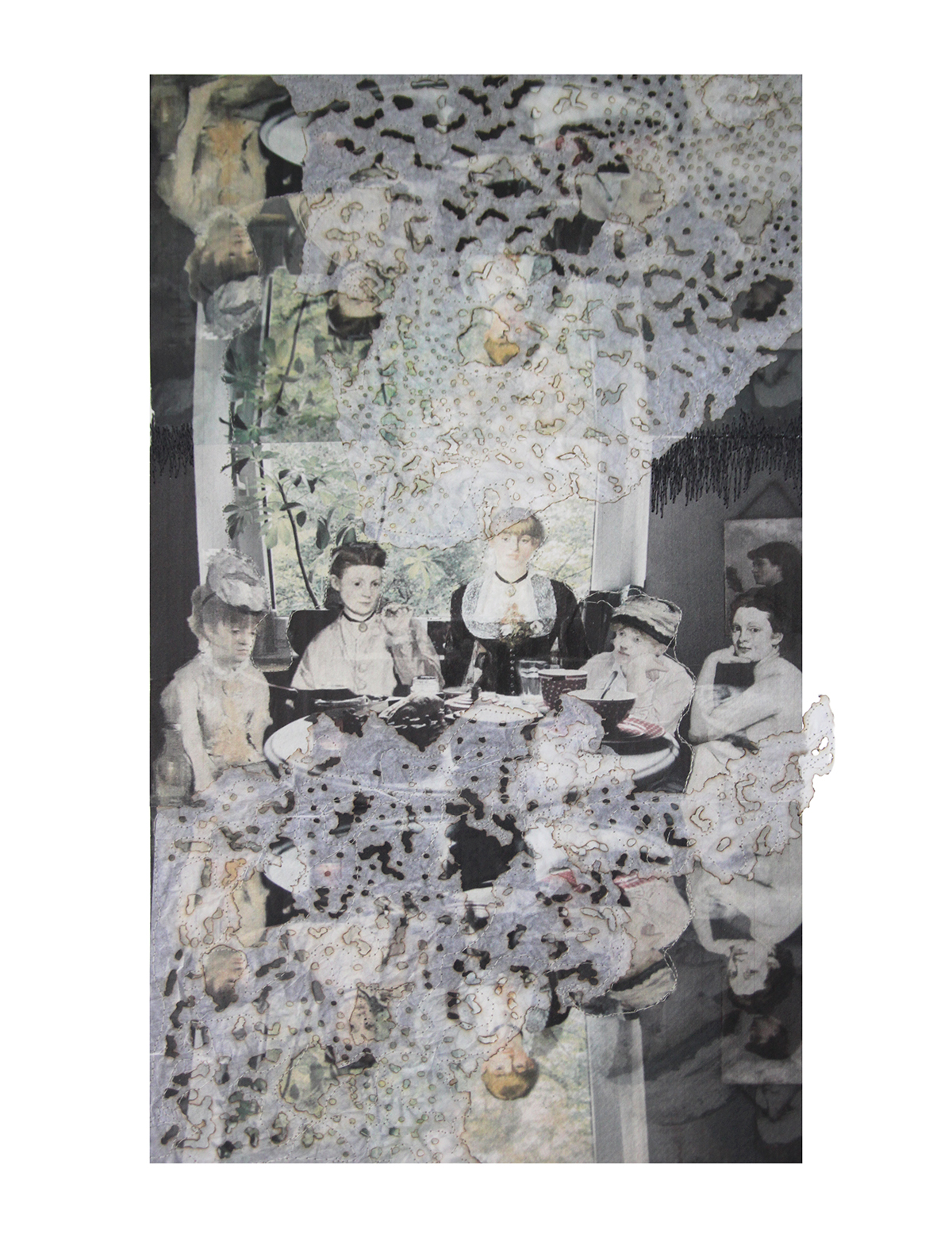 #MeToo, "None of it is O.K. None of it is acceptable." 50 x 65cm, paper and thread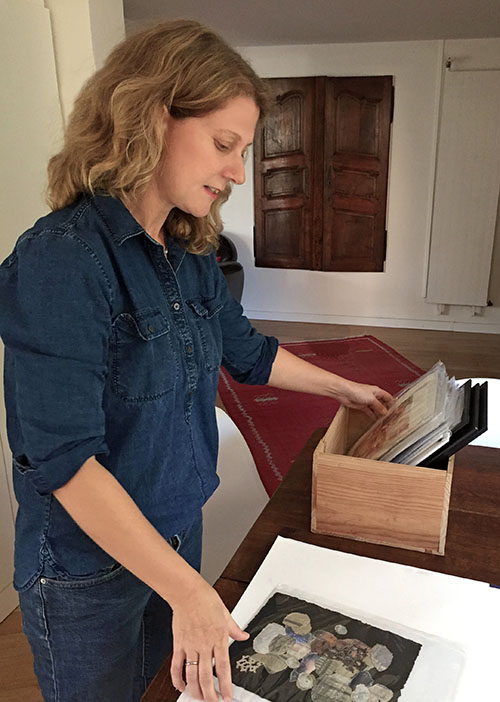 Michele Landel is an American fiber artist. She studied Fine Arts and Art History at the University or Pittsburgh and the University of Texas. Prior to moving to France, she was involved with the Pittsburgh Three Rivers Arts Festival and worked for the gallery, Exit Art in NYC and the American Institute for Architecture in Washington, DC. Her work has been exhibited in the US, UK, and France. Work from her #MeToo series can be seen at the Biowoman exhibition, Gallery 59 (59 rue de Rivoli, Paris) from February 27 – March 11. Her Perfect Darned Home series was recently featured in Issue 5 of Maker's Magazine. Michele lives and works in Sèvres, France. More at www.michelelandel.com and please follow her on Instagram @michelelandel
DEAR READER
At The Wild Word we are proud to present some of the best online writing around, as well as being a platform for new and emerging writers and artists.
As a non-profit, the entire site is a labour of love.
If you have read the work in The Wild Word and like what we do, please put something in our tip jar to keep this amazing platform alive.
THANK YOU FOR YOUR SUPPORT!
For more on the work of Michele Landel