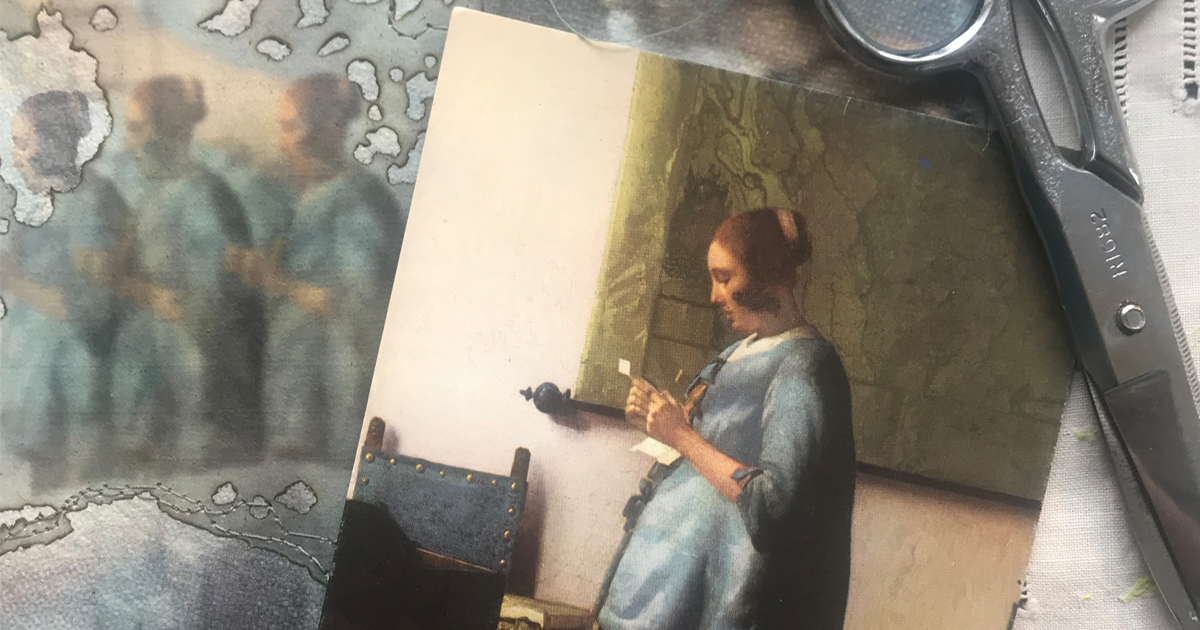 Reworking Vermeer's 'Young Woman'
Last summer a friend gave me a stack of postcards with a story. A friend had asked her for help cleaning out her stepmother's Paris apartment. The stepmother was an artist who split her time between Paris and New York. She lived by herself, had run downstairs for a quick errand, been hit by a car, and because she hadn't had her wallet with her, died anonymously in a hospital in New York a few days later.
My friend knew I would do something with the postcards. She gave them to me in a small brown paper bag. The bag was very heavy.
A number of the cards were of paintings from European museums. I started by cutting out a group of men in bathing suits and then began using the paintings with women. This was the start of my too recent series: Postpartum and #MeToo.
There is so much rebooting, retelling, and reusing going on in these series. I hadn't thought about it before but there's also a sadness that permeates the work. I do not know anything else about the postcards. I do not know the woman's name or why she collected them, but I feel responsible to work with them.
This is a small "sketch" for a bigger piece that I am working on this week. The woman is from "Young Woman Reading a Letter" by Vermeer, the Rijksmuseum in Amsterdam. Removed from the background, her hair and clothes look contemporary. One could easily imagine a woman today dressed like this to conceal her postpartum body. While the final, larger work will be very different with more layers of paper and stitching, this small sketch gives me an idea if the composition works.  I will leave the paper and files at the printer tomorrow and hopefully pick up the prints next week.
Thank you for being here! I am glad I can share this story and my work with you.
Discover more at www.michelelandel.com and Instagram @michelelandel.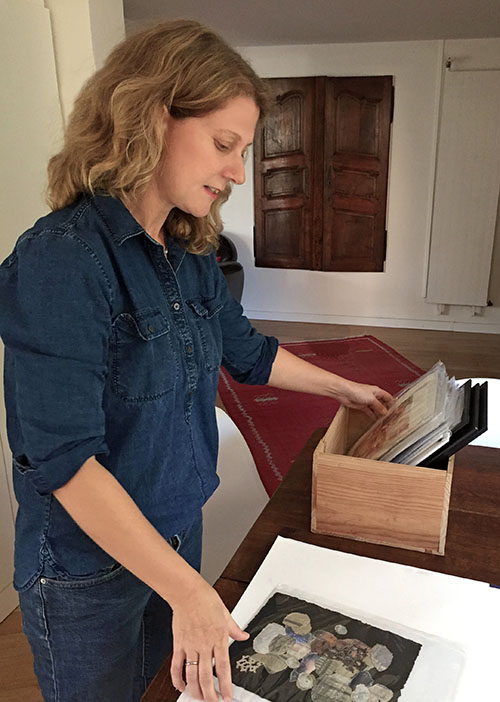 Michele Landel is an American fiber artist. She studied Fine Arts and Art History at the University or Pittsburgh and the University of Texas. Prior to moving to France, she was involved with the Pittsburgh Three Rivers Arts Festival and worked for the gallery, Exit Art in NYC and the American Institute for Architecture in Washington, DC. Her work has been exhibited in the US, UK, and France. Work from her #MeToo series can be seen at the Biowoman exhibition, Gallery 59 (59 rue de Rivoli, Paris) from February 27 – March 11. Her Perfect Darned Home series was recently featured in Issue 5 of Maker's Magazine. Michele lives and works in Sèvres, France. More at www.michelelandel.com and please follow her on Instagram @michelelandel
DEAR READER
At The Wild Word we are proud to present some of the best online writing around, as well as being a platform for new and emerging writers and artists.
As a non-profit, the entire site is a labour of love.
If you have read the work in The Wild Word and like what we do, please put something in our tip jar to keep this amazing platform alive.
THANK YOU FOR YOUR SUPPORT!
For more on the work of Michele Landel