A part of my work is to make things, but another part of it is to un-make things, whatever is more true, whatever is more real.
At the bottom of my garden I started digging for vegetables, but the soil was full of glass and bits of ceramic.

So, I sat there, for hours, digging, cleaning, slowly. Rubbish buried underground always makes me sad.

I felt my sadness leave me, as the soil was getting soft and fluffy, clean again. I fertilised it, and plated all types of seeds. I got carrots and beetroots from that small piece of clean soil, but also lots of tiny fragments of painted ceramic. Each part was from someone else's creation.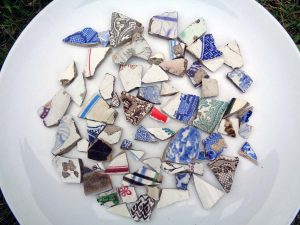 Each a small piece of someone's idea. Even if a plate was made many times, someone designed the first one to be copied.
So, I decided I will not only save the soil, but the mysteries of all these invisible artists.
One of the plates that always comes up is the Willow Pattern, popular since the 18th century. We've all had this plate but we've never really looked at it. It shows all the elements of a sad story, where two lovers had to flee to their death as the young woman was promised by her father to another.
Pieces of the story were sleeping in my garden, under the carrots.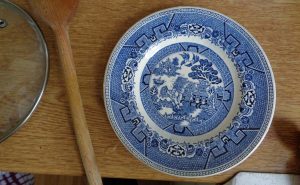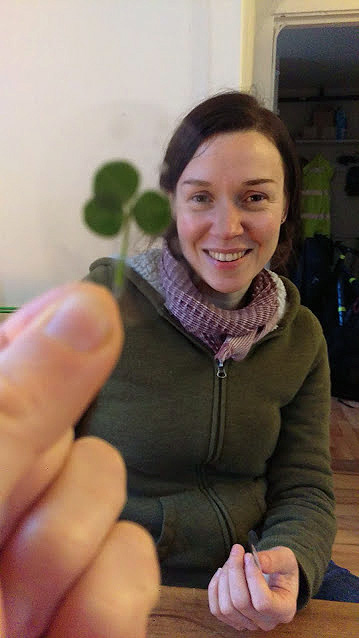 Founded in 1994 in Dublin, The Laboratory of Living Arts is a lifelong artistic project led by the artist Laurie Legrand. It focuses on questions such as the accountability of the artist in a culture made up of images, sound and stories as well as what makes an art work potent as a seed for a shift in awareness for both creator and viewer. Over the years her means of expression have varied from writing, painting and performance to street art and installations.
Laurie Legrand, born in Bruxelles/Belgium in 1974, has lived and worked in many countries around Europe but mainly in Ireland and Spain. She is an M.A. Fine Art graduate with Honours from St. Luc School of Art / Belgium, and has been a practising artist as well as an art teacher since 1992. She is studying carpentry as well as sustainable building at the present in CSN and The Hollies, and is now permanently based in Cork/Ireland.
For more on the work of Laurie Legrand