Ghosts of Christmas
The night pines,
divining spirits, recollections,
a stranger's kindness tumbling
from cards, the coins
striking a kettle,
some salvation caroler
neon silhouetted
before the shop's cookie
cutout of red & green.
So much to say, as always, isn't there—
future past present
encompassing the implacable
all poets without poems
except for the years
inhabiting
this particular face gracious
warmth of candle blushed snow
glinting icicles or
these chimneys whisking children's
parent's
dreams from Herod
& towards the star for whomever
it belongs to
Christmas Card From Your Neighbor
Contact's a piñata.
I've been trying all day to get my message across,
poking at the belly: Christmas time in Mexico,
the lines all tied up, voices, the buzzing of insects,
each phone a hive shook and shook again,
that Capote babble, tinny, that sound.
I know, to break circuits,
there must be a code
and candy will shower down
resonant as marbles.
You're an aggie.
You're a jawbreaker and, dear,
I realize it's not fashionable
to write a poem like a love letter
but let's tell the truth:
I'm mainly outdated, a tourist in re-runs.
This motel gives the bends. Montezuma
Bursts out. I boil the tap. Neon flashes,
that lurid sign outside glaring,
a glorified migraine put up on stilts.
To be homesick and lonely is unpopular
to speak of. Therefore, let me just say
that the rain on the awnings,
that the yellow cafe windows,
those glowing abstract pats of margarine,
reminds me how there's not enough room
on this Christmas card,
and that my mail has been tampered with:
vandals steaming stamps off and…
Listen, I lied.
Truth is I'm in town, around the corner
waiting to scrawl myself out.
Rush. Special Delivery.
Happy New Year. Kiss my signature.
I'm resolved to be your postscript.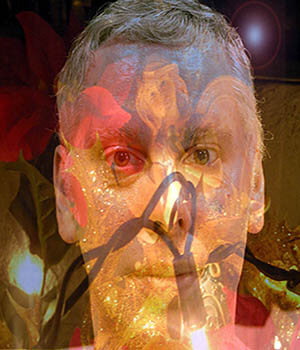 A resident of NY, Stephen Mead is an Outsider multi-media artist and writer.  Since the 1990s he's been grateful to many editors for publishing his work in print zines and eventually online.  He is also grateful to have managed to keep various day jobs for the Health Insurance.  In 2014 he began a webpage to gather links of his poetry being published in such zines as Great Works, Unlikely Stories, Quill & Parchment, etc., in one place: Poetry on the Line, Stephen Mead For links to his other media (and even merchandise if you are interested) please feel free to Google Stephen Mead Art.
DEAR READER
At The Wild Word we are proud to present some of the best online writing around, as well as being a platform for new and emerging writers and artists.
As a non-profit, the entire site is a labour of love.
If you have read the work in The Wild Word and like what we do, please put something in our tip jar to keep this amazing platform alive.
THANK YOU FOR YOUR SUPPORT!