By Tim Clark
I love maps. They are the flagship achievement of humanity, representing so much order and precision, so much planning. I am always amazed at the interconnectedness of everything. No matter where you want to go you can get there, there is always a way. There are so many roads, so many places.
I can get lost in them, just looking at them.
Naturally, I can get lost trying to navigate using a map. I used to do it all the time. It never really bothered me. One time, on my way home from work, I drove past a rundown little store in a decidedly urban neighborhood that claimed to have the best sweet potato pie in Ohio. When my wife told me what a sweet potato pie was (a close relative to a pumpkin pie) I decided to go back the next night and buy one. I could never find it again. Easy come easy go.
Now I have a navigation system in my car and a smart phone so I am fearless. If I'm tired of driving the same way home I'll try something new. And most times I get lost. "Hey Siri, take me home."
I often get lost while on vacation. We might end up in the strangest little places, driving past roadside shanties, porches covered in symbols of individuality. Lazy little towns without a gas station or grocery store. Certainly no McDonald's. Places filled with people whose lives and futures were entwined so tightly to their location they may never be able to pull free. A relationship as beautiful as it is strange to a person who never managed to find a comfortable center.
Thanks to the navigation system we never get lost anymore. It takes us on the most direct route to our cabin, motel, resort, or house. We speed along superhighways where you can't even really see America. Past exits filled with the homogenous offerings of huge chains, everyplace looks like everywhere else. Tomorrow's world bought to you today, courtesy of Gigantic Americorp Inc, LLC.
The funny thing is we miss getting lost. We miss the people we used to talk to, the unexpected. We miss the sights.
Or we used to. Now we ask the car to take us by one of the least direct routes. Highways, stop signs, town squares.
We eat at places with names like The Chicken and the Egg. We wander through antique stores and flea markets where we are the only customers. We stop and talk to people who have been left behind by the monstrous convenience of controlled-access highways.
Some of these towns are terminal. You can see the light flickering, feel the breathing become labored. You can sense it in the closed and padlocked door of the barber shop, the empty stores on Main Street. Towns whose tomorrows are tragically few.
And if it seems sad walking down those streets, looking into boarded buildings, and broken windows imagine the people in the few remaining businesses.
There was a man we talked to in Michigan, a former basketball player. Now he is stuck in a wheelchair. His wife owns a small store and he sits there in the front watching the time ticking away. I walked in, wearing a Louisville Cardinal shirt and it caught his eye.
"They're pretty good," he said. "I like the coach."
"Thanks," I replied. I was in Michigan so I wasn't sure if I should mention the Wolverines or the Spartans. He helped me out.
"I played for Michigan State when I was a freshman."
We talked for a half hour. He loved basketball and had been a high-school star. But, that was a long time ago. I wonder, sometimes, if he is still alive. He seemed so small, helpless. I wonder how much of that town is still there. It was obvious tomorrow was not going to be kind to either of them.
One time, we took the long way through the mountains of West Virginia. We were starved, but every little town was empty, nothing, almost nobody, a scene from 'The Walking Dead'.
Finally we found an open café. You could smell the mildew from the Swamp Cooler, a device to provide coolness by evaporation, when we walked in the door. It was so hot outside, and so dark and damp inside it seemed to be working.
We sat down and ordered a couple of hamburgers and French fries and something to drink. Our Coke came in a can, no glass, no ice. Just cold and the food, delicious.
The lady who owned the place came over and asked how we were. I think she really wanted to know who we were and what we were doing in her café, in the middle of the afternoon.
She sat down at the table beside us and talked about the weather, about the heat.
"Do you think this is global warming?" she asked, looking straight at us.
We were in coal country, signs hung from porches "Trump digs coal." We didn't really know what to say.
"It's hot," I said.
"People around here don't believe it, but it's the truth. It's going to get worse," she said.
We finished eating and thanked her. When we left I noticed a small for sale sign in the window. I don't know if she ever sold. I hope so. I hope she found someplace cooler.
These people, maybe even these places have a lot more yesterdays than tomorrows. I think about them, and I say a silent prayer for them. Without them tomorrow isn't going to be as bright.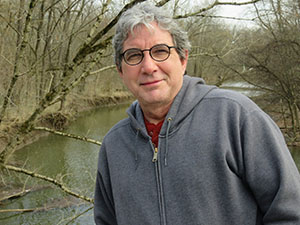 Tim Clark lives in Columbus, OH. He is an employee, a husband, a  father and a blogger. You can see his blog here, Life Explained. He writes occasionally and with pride for Street Speech, a local homeless advocacy newspaper. He is contributor for The Ugly Writers and the Good Men Project. He is particularly vain about his monthly column on The Wild Word. He is working on a novel.