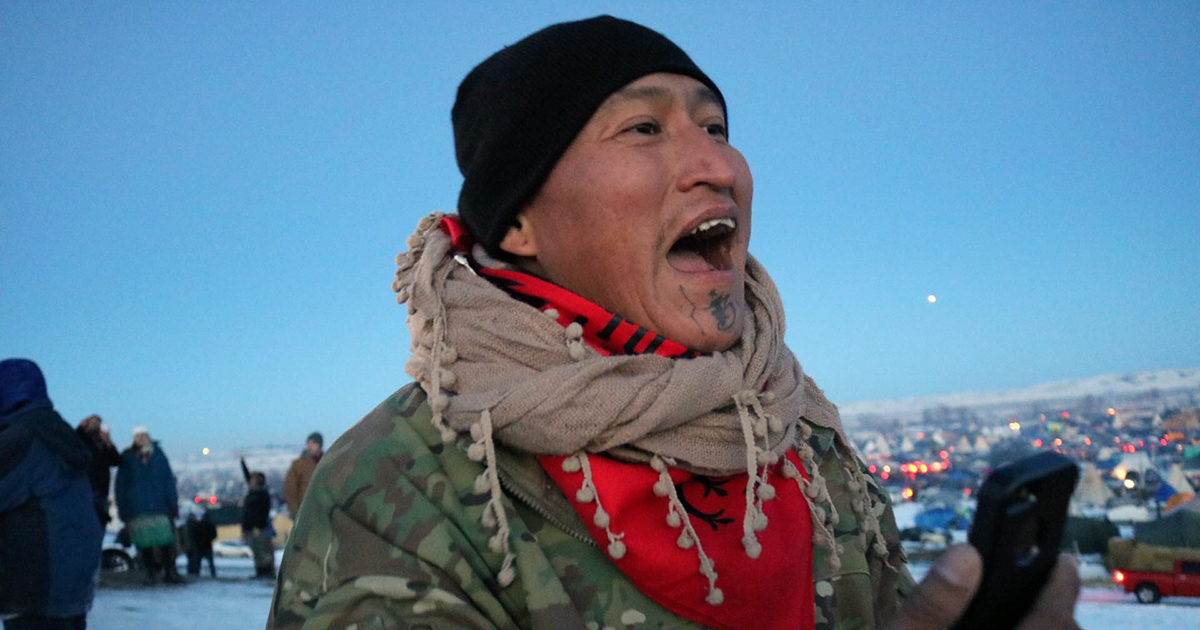 By Sarah Drumm
"A lot of people say that you come home here at camp."
Dusk was quickly approaching and my friend and I had just arrived at Oceti Sakowin, one of the Water Protector camps outside of Cannon Ball, North Dakota. We saw a guy having a cigarette near what appeared to be the media hub. He was dressed head-to-toe in camouflage, had a chin tattoo and did not look particularly welcoming. He looked like a warrior. As soon as we approached him, however, his face broke into a wide grin. He shook my hand firmly and introduced himself as Ernesto. Before we parted ways, he looked me right in the eye, thanked me for coming to Standing Rock, told me that he appreciated me and gave me a giant hug.
"I just try to be positive and to uplift our community. Those of us here at Standing Rock are waking up. It is our job to wake the rest of the world up."
Ernesto Burbank is one of the many "live feeders" who have emerged out of the NODAPL standoff in North Dakota. He has been in camp since September. His early live feeds of the camp were calm and inspiring. His first live feed on September 12, 2016 had 650 views. His early November interview with Kash Jackson, a Navy veteran in full uniform at Standing Rock, had almost 500,000 views.
"We have to make love trend."
He has remained a beacon of positivity for those watching and supporting from afar.  At times, he prays fluently in the Diné (Navajo) language. Other times he references the Bible. He is brutally honest. His live feed on Nov. 21st, the morning after the world watched as the police unleashed powerful streams of water in freezing temperatures and injured hundreds, was emotional and raw. In that short video, Ernesto begged people to come help. He was visibly shaken, saying, "I don't even know what to think anymore."  He can also be downright silly sometimes, dancing and singing along to reggae in his live feeds. In December, he introduced the world to a character he called "NODAPL Santa". He donned a white beard and lifted spirits with his cries of "AHO-HO-HO-HO!"
"We all have the best medicine inside us—laughter and love."
Ernesto Burbank describes himself as "just a man with a prayer". He laughs easily and it is endearing. More often than not, he is poking fun at himself or giggling at his own joke… which he then repeats two or three more times howling with laughter. This is "good medicine", a phrase he uses often to describe the kindness of strangers, the unity present at camp and the joy found in small things.
"What is healing you is love. Practice it. Feel it. Accept it."
This 35-year-old Diné man, who grew up bouncing from trailer park to trailer park in the tougher parts of Phoenix, is an unlikely champion for the power of positive thought and prayer. He left his job as a tattoo artist in Tucson, Arizona and went to Standing Rock after he saw the footage of the dogs attacking the peaceful Water Protectors. He says that he showed up itching for a fight. That rage subsided as soon as he saw the flags along the main entrance. The atmosphere was "all about spirituality and raw love and genuine hugs". He walked to the river and saw that "she was alive and breathing" and knew that he was not there to fight. He talks about Morton County police and how he feels compelled to pray for them every day. He laughs, and emotions surge into his voice as he asks, "How can you hate love and prayers so much?"
"We need to build something out of this poverty. We have to experience this hate and anger. It is up to us to decide what to do with it."
Although life in the camps is extremely challenging, Ernesto works to show the world the positive side. The freezing temperatures, a respiratory illness dubbed "the NODAPL cough", the urgent need to move to higher ground and the constant presence of a ruthless police force are exhausting. According to Ernesto, though, this is all necessary. He sees this movement as something that the world needs at this moment.
"The children have to see us get hurt and endure. We have to teach them to react in prayer. That is the only way this world is going to change."
These are powerful words coming from an angry boy turned tattoo artist. He takes his kit with him everywhere and gives tattoos to support himself. He created a "water protector design". Other tattoo artists are marking people with this symbol, sending the money earned to Ernesto in North Dakota. Additionally, he has a line of shirts and hats with his NODAPL artwork. Like many at Standing Rock, Ernesto gave up his job and comforts of home to stand on behalf of water over six months ago. He is living on very little and says, "We are doing this for the children. It is all about the little ones."
"Let's heal together. Let's love together. Let's build each other up."
Ernesto says that as a youth he was mad at the world and would do anything to get money. When asked about the shift from a bitter youth getting into serious trouble with the law to the man he is now, he credits his mom, saying, "So many struggles she went through to raise us, so much we put her through, but never did she stop loving us… I am grateful for the beauty she walks in."
"As people we feel powerless and helpless, but we need to remember that beautiful things can happen when we come together."
Like thousands of others, I will continue to watch live feeds done by those at Standing Rock like Ernesto. More than just a news source, though, Ernesto's words are spiritual and powerful. The movement at Standing Rock, and now all over America, has broken something wide open in people's hearts. It has certainly broken something wide open in mine.
"We are all learning on this path, little by little."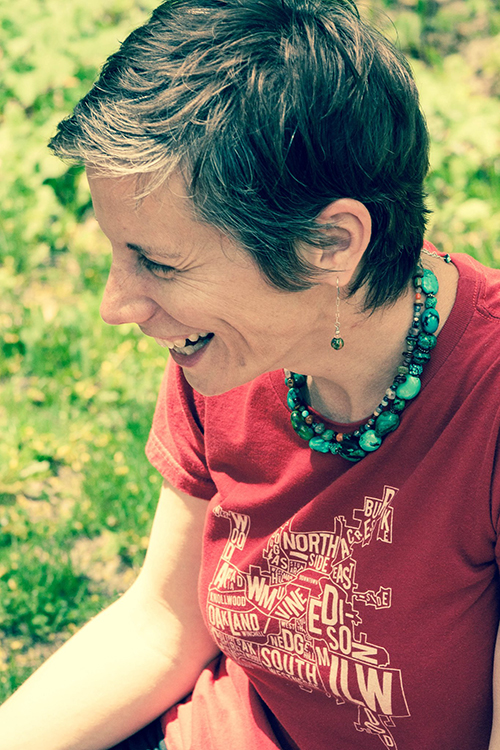 Sarah Drumm is a writer and nature lover. She lives with her partner Steve and their two kids in Kalamazoo, Michigan (yes, there really is a Kalamazoo and it is full of great people doing beautiful community work).