'Fishing'
Sister Minny Pearl hauled herself out of bed and greeted the rain. Stepping into her fuzzy blue slippers, a gift from her grandson Waylon, she picked up her yellow bathrobe from the floor where she always dropped it at night and limped over to the propane stove. Fire, she said, and lit a match under the coffee pot. She stamped her foot: Earth. She pulled aside the old flour sack that covered the window: Rain, she said. Water. And opened the window: Air. There, she thought. That was enough to keep the ancestors happy. But just for good luck she added a fifth element to the list: Fishing.
Sister Minny Pearl was just shy of fifty and could still out-fish anyone in the town of Dogleg, Manitoba. Her secret was known to no one but her husband Dale, gone now these thirteen years, and her brother Kyle who had moved off the reservation a few years ago, a city slicker now with city thoughts and city manners, who didn't give a damn about fishing or hunting or trapping, or how the moon grew large as it rose over Bobcat Hill, or the quality of the rain in summer, or the size of snowflakes, or the wind's voice in the grasses, or the Indian paintbrush lighting up the world in spring. Kyle had taught her fish-mind, and the secret to fish-mind. The secret to fish-mind, Sister Minny Pearl knew, was worms, and in particular J. Schmuck's readyworms sold by Joe's Bait Shop on Main Street, Dogleg, and nowhere else in the wide world.
The coffee pot steamed its readiness and the rain came down and Sister Minny Pearl knew, one way or another, this would be a fishing day.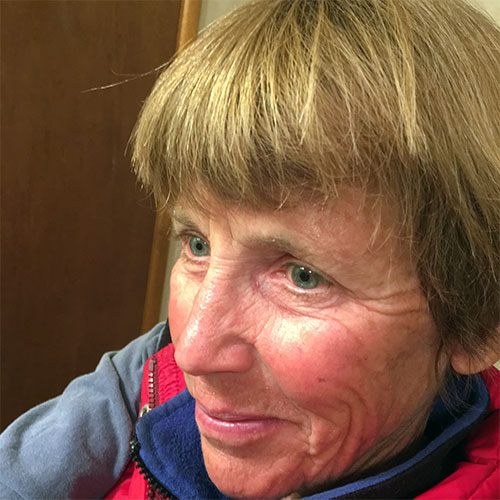 Margaret Erhart's work has appeared in the New York Times, Christian Science Monitor, Best American Spiritual Writing 2005, and many literary magazines. She won the Milkweed National Fiction Prize, and The Butterflies of Grand Canyon (Plume), was a finalist for an Amazon Breakthrough Novel Award. She lives in Flagstaff, Arizona. Margaret welcomes responses and conversations at www.margareterhart.com