'The Sea of Consciousness Sūtra'
They walked back from the beach into the quiet of the studio. They could still hear the laughter and conversation from friends at Jefferson's after party. Jefferson was Alichay's cousin and Jaz's best friend. The two had left to get a moment of quiet and he'd covered their escape by loudly thanking everyone for coming.
Alichay remembered the pen and small notebook she had tucked next to her room key. "Take this, and write the first line. Then I will always think of this pen as the one you also held."
He took a pen out of his pocket. "Let's trade pens."
They did. Without needing to say anything to each other, they walked back outside into the night air and wrote under a string of lights where other couples sat and drank champagne at circular tables.
He opened the notebook. It was blank. "Your notebook's new."
"So it is. I guess that's why I decided to take it with me tonight," smiled Alichay, feeling light radiating from her head.
Jaz smoothed the page and began to write in curves of black ink:
—Evam mayā śrutam ekasmin.
She translated the phrase into English in architectural caps with blue ink:
—THIS IS WHAT I HEARD ONE TIME
—The Buddha lived in Vaiśālī, and we were among all the great bodhisattvas and monastics but we weren't human: I was a spider, who created a web on a rosebush near Vimalakīrti's house, and you were a kitten who placed your paw in my web.
—CURIOUS ABOUT THE LACE NET YOU CREATED, I BATTED AT YOU, BUT YOUR WEB STUCK TO MY PAW, IT FELT SAFE, AND I DIDN'T WANT TO LEAVE RIGHT AWAY.
—The Transcendent One said, "Look at these two little ones trying so hard not to harm each other. With your thoughts, you create the world."
—WHAT ARE THESE THOUGHTS I HAVE, WHAT IS THE WORLD THAT I HAVE CREATED? JAZ, WHAT ARE WE CREATING, HOW WILL WE STAY FRIENDS, AND HOW WILL WE LOVE EACH OTHER? IS THAT POSSIBLE? I DON'T KNOW ANYMORE, I'M SO IN LOVE WITH YOU AND I DON'T WANT TO HURT YOU.
—The Transcendent One smiled, "They're trying hard not to harm each other. 'Good, good! Sadhu! Sadhu!'"
Their feet sank into beach sand, they rested their deepest thoughts within the tide, forward and back.
"You take the book, Alichay. We can keep adding pages. When I take you to the airport tomorrow, we'll write more."
"Since I don't have to leave till afternoon, I'll find another book tomorrow morning. I'll copy it out, Jaz."
Jaz put his hand on hers. "Let's just have one copy. Then we'll be sure to meet again."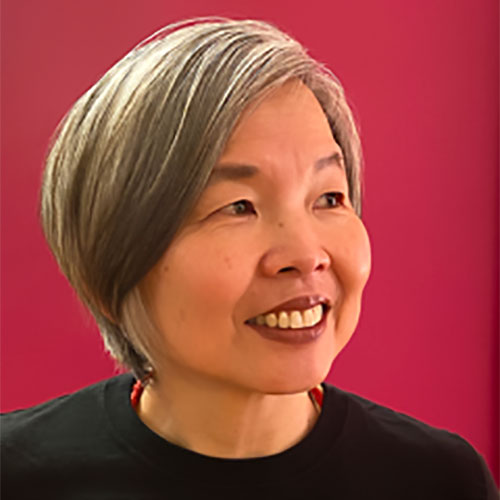 Annie Bien has written two poetry collections and published flash fiction in print and online. She has been a flash fiction winner and finalist of the London Independent Story Prize and a Pushcart Nominee. Recent publication: Messages from Under a Pillow, a chapbook writing map by A3 Press. She translates Tibetan Buddhist scriptures into English with on 84000: Translating the Words of the Buddha. anniebien.com