Edith
The brimming buckets
she carried to the pigs,
the stains on her torn apron.
How she bathed her little sisters
and boiled great sweating pots of sauerkraut.
(Silesia on the map: a rag
of Germany and Poland.)
My grandmother, who later said
her parents hated her,
her birth had come too soon after
their hasty marriage.
At sixteen she was sent
to an uncle in New York.
His hands in the dark: the reason
I do not know his name.
In Ohio she found Albert,
a daughter, a daughter,
a house. It's different when
the garden is your own.
Some kind of love nourished her son,
some German romance
with her third child and only boy.
Her tenderness, her schizophrenia,
the pickles, the bread, the knife,
the straitjacket, electroconvulsions,
the prayers, the jealous rants,
and after Albert died the suitcases,
the hospital rooms, the months
with her children's families.
I could call my body Edith.
She travels my arteries, blurts secrets.
The time that Grandma woke me
in the dark when I was one,
sat me on our yellow-tiled counter,
finger to lips, heated
a forbidden bottle.
A complicity of warm milk,
moist early-morning skin, subversion
of authority.
She is loose in me, I take
a pill to pacify insomnia,
I choose the tenderness and not
the jealousy, but she rages
her rejection through my muscles,
grinding teeth. I am her peasant
granddaughter, abused, failing
and finding.
I hold her
in that deepest hollow, the murk
born in me, shifting and still,
the viscera, the strange sufficiency.
The hands that wanted
November 8, 2016
It was the boil, the freeze,
the shutting of doors.
The day flapped like a filthy banner
on the line of our life.
It swung and tied knots.
It was the freeze, the gray,
the eruption of infection.
The day opened and closed its mouth
again and again.
We were in some kind of current,
our cities like warships.
The smothering farmland,
innocent forests.
It was the boil, the day
flapped in helplessness,
the casual violation,
the people's terrified snarl.
We all wanted a blooming field,
a shelter. It was the failure,
the bricked up, the slammed.
We wanted a target,
we boiled and froze,
we thought we were choosing
but it was the familiar net
tightening in its familiar way
and some of us were comforted.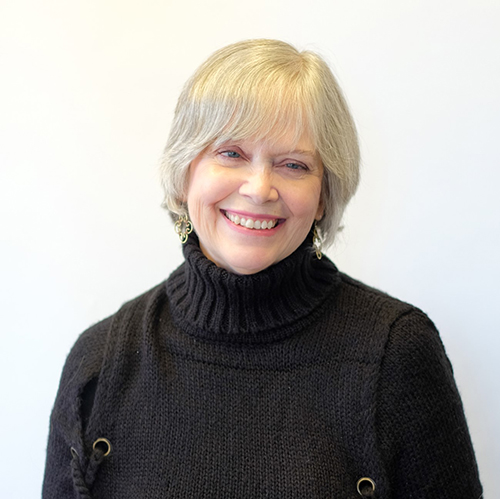 Ruth Goring's poetry collections are Soap Is Political (Glass Lyre, 2015) and Yellow Doors (WordFarm, 2003); her children's picture book Adriana's Angels / Los ángeles de Adriana is due out in fall 2017 (Sparkhouse). Ruth's poems have appeared, or will soon, in RHINO, New Madrid, Crab Orchard Review, Iron Horse Literary Review, Aeolian Harp 3, CALYX, and the anthology Misrepresented People: Poetic Responses to Trump's America (NYQ Books). She edits books at the University of Chicago Press and teaches an editing course at the Graham School for Continuing Liberal and Professional Studies.