Inle Illusion
(for Kyal Sin, aka 'Angel' 2002-2021)
I.
Tear gas,
shootings,
your voice shouting
"Are we united?"
People chanting
"United, United".
EVERY
THING
WILL BE
OK
printed on your T-shirt
soon smeared
by your own blood —its type
written on the card
attached to a lanyard:
you wished to donate your organs
you wished to save some souls.
They exhumed you,
instead,
to double-check
what bullet pierced your head.
II.
Kyal, had you ever been
to the immense Inle Lake?
There's a small temple
floating on a patch of grass,
alone,
as if fallen from a cloud.
It's beautiful:
golden spires atop
candid white stupas,
red roofs shaded by the trees.
If you blink, you can see
two temples,
united
only by the Sun.
One temple standing,
and one reflected
in the creased water.
People enter a room,
say their prayers, kneeling,
then step out
and everything looks blurred,
like in a warped mirror.
And when Darkness falls,
the temple dissolves.
All the souls are left drowning.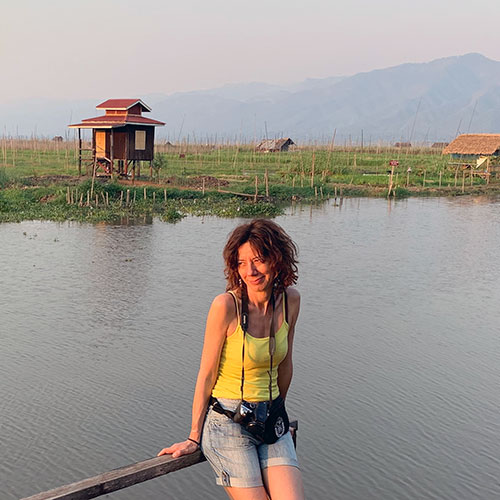 Paola Caronni hails from Italy and lives in Hong Kong. She works as a translator and tutor of Italian GCSE, teaches Creative Writing to a group of refugees, and is Director and Editor of the English section of the online magazine 'Ciao Magazine' (www.ciaomag.com). Paola holds an MFA in Creative Writing from the University of Hong Kong and an MA in English Language and Literature from the University of Milan. Her poems have been included in various poetry collections and in poetry journals and publications: 'Desde Hong Kong: Poets in Conversation with Octavio Paz', 'Quixotica: Poems East of La Mancha', 'Mingled Voices'; 'Poems from the Lockdown' and appeared – among others – in 'Voice and Verse Poetry Magazine', 'Cha, an Asian Literary Journal', 'The Curator', 'New Asian Writing', 'From Whispers to Roars', 'Fearsome Critters'. Paola has recently been announced as one of the Finalists of the Proverse Prize 2020-Poetry Collection.