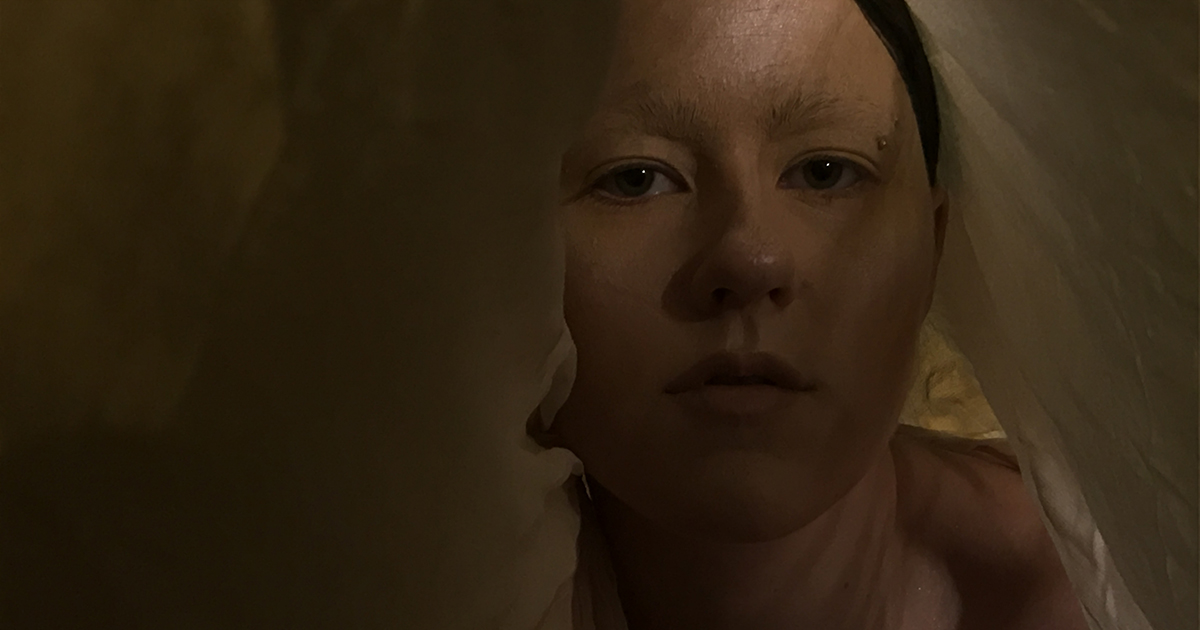 Dream: "Spiritual Doorway"
By Ohrkid
The first part I remember, I am in an upstairs chamber with Annie D'Amato and Lauren Lougeé. Annie is guiding us through to some pathway/doorway of spiritual existence. She describes her own experience of getting there, and at first I have no idea what she's talking about. She is describing how she tried to squeeze through many different ways—standing, squeezing her shoulder through, then feet first, until she describes basically going butt first (the image of which now reminds me of a breech baby). Apparently, she says this was the only way she fit. Then she could enter the next world, of which she tells stories, which seem important.
I feel challenged to try to go. Lauren is also trying. As soon as I lay down on the floor—(this whole place is wooden, like a cabin bunk house. Some blankets. Loft, wooden, dark bedroom kind of place, with no bed)—on my right side in the fetal position, already the world is tugging and pulling me in. It's so intense. I think I feel what she means, about the entrance being slim and having to be smooshed through.
I am at once caught in the doorway, with a spiritual wind coursing/crashing through me, pulling me towards the next level, and still lying on the floor there, and inside the place. It's like a maze. Of earthly tunnels.
On the floor, I am shaking, my teeth are chattering, and I am moaning, as the feelings course through me, pulling me in.
Somehow I get out, back to the place with Lauren and Annie. Annie is standing up, tall. She doesn't seem to recognize what I've just been through.
I grab some (luscious, pastel-like) colored pencils and start to fill in a green and blue section on a giant mural that's being made on a paper on the floor. The green is used to highlight the blue. I am coloring fiercely because it feels that an energy/force is moving my hand as I color in automatically, deepening the green sections. I am concerned it will look like lines rather than blended shading.
Now I take my own piece of paper and grab a pink pastel and draw myself. I am coloring in the eyelashes when Annie D grabs the paper from me and goes, "Do you think we could save the paper for Chris Fitzsimmons? He's been doing a lot of amazing drawings, come look." She shows me lots of very diverse drawings, and I agree they're important, but I can see that there's an entire huge pad of paper. I feel rejected, unused, and wonder why she'd take my paper away.
I am totally energetically drained now. I can hardly stand up. I start to ask for some chaga tea or kakao, but Annie D interrupts me to say, as if to discredit my exhaustion, "The first time, you're mainly experiencing your fantasy of it".
Ohrkid is a musician, doula, and writer based in Berlin. They released their debut album, PDA, in January.
"Ohrkid's voice is moving, not because of its force but because of its ease. We're meant to listen to them sing." – Hysteria Magazine
"Have you been looking for a dreamy, erotic escape to shamelessly blast in your room this spring?…In just five songs, PDA sets a mood full of dreamy soundscapes painted with reflections of pleasure, disgust, lust, and longing." – BasedBrat

Instagram
Spotify
Soundcloud
Bandcamp
Photo by Jo Eisley – www.visualsweat.com
DEAR READER
At The Wild Word we are proud to present some of the best online writing around, as well as being a platform for new and emerging writers and artists.
If you have read the work in The Wild Word and like what we do, please put something in our tip jar.
THANK YOU FOR YOUR SUPPORT!