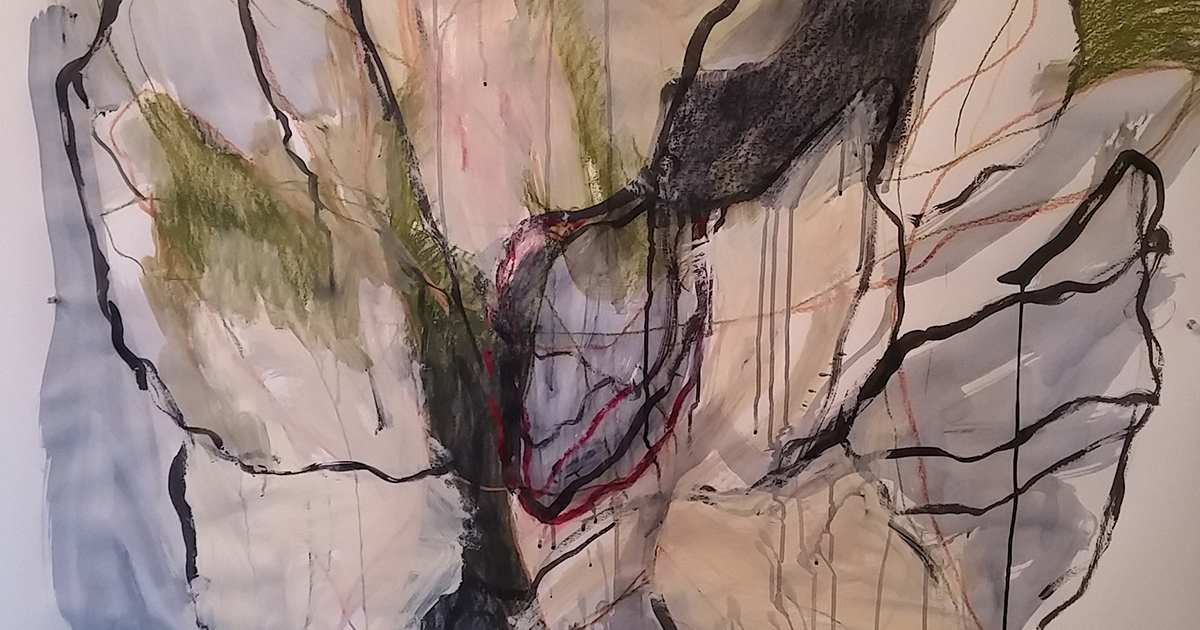 Detail from 'Middle', acrylic & ink on paper, 40×40″, 2017, by Karen Jelenfy
A third week's venture!  The concept of an online Artist-in-Residence is pretty enticing for the chance it provides to hold forth, to collaborate and to engage.  It's not the same, of course, as a writing retreat, a workshop, or a reading/conference.
An e-AIR is, in fact, a different kind of ticket.   It's a new way to travel along poetry.  It's a trail-blaze that hoots at the notion of anything anymore being "place-based," that zooms across time zones like stars, but that is calmed down a little bit by the sequencing and pacing of weekly interactions.   Said much better, an online residency is mighty exciting.
My friend from Maine, USA, Karen Jelenfy, is a wonder artist and poet.  Her sharp/soft images captivate my very socks.  I hope, in an ALL FOR ONE spirit, you'll find them as moving as I do.  Learn more about her at facebook.com/karen.jelenfy.
I'm excited to offer short notes here about why I worship poetry, and why I hope to someday become one of Emily's dashes.  Looking back, I will never ever forget how, as a kid, I suddenly grew five feet in one jump at first encounters with G. M. Hopkins' "downdolphinry", and another two when I saw as a teen Ferlinghetti's Coney Island of the Mind performed on TV.  The poems I wrote when younger were written by another me, not now me.  Of course, the poems I write today are not much wiser, wider or further.  But they are surely grounded in grateful, each one, for the incredible permissions that all poet wonders near and far have provided over the years.  If ever I was, I just can't imagine being fenced in ever again.
And then there's this…Without knowing why and for as long as I can recall, I've always loved the taste of poetry—its greenest twigs, its frozen blossoms, its roots and snags, and all of its sweet rambunctions.  Poetry has been—and will always be—my peaches. These days and times, I find needed solace, power and will in all the lifted voices—young and old, pink and green, loud and soft, up and down. The poetry of witness commands!
The Fates gave me big ears, the better to listen to poets read their work.  So, here's to readings, to recordings, podcasts, and webcasts.  Here's to performance poetry, slam poetry, glam poetry, goth poetry, rock poetry, gutz poetry, barn poetry, and your poetry.  Here's to the delightful variety of sadness and gladness that's poetry.  And, of course, here's a hiccup of a toast to the poetry that in forever unknown ways changes even how our hair grows.
All For One,
Hiram
HLAREW@gmail.com
LOOK HERE
Sooner or later
Over some breakfast
We'll realize what's what
About our place in the world.
In fact if we'd only stare at milk more often
Or get treated by the wind
Now and then
Like loose leaves
We'd really see
And might even become that house out there
To itself
In the middle of flat way off land.
The best plans to make
Come from the spots we don't get to—
They shimmer ahead
And act like a man about town.
Put simply
Whatever's far away from us
Says exactly why we should be trying.
You see
Nothing is as sure as what's combed back
Or rooster ready
And luck is never ever even.
CHIRP
Be be my through into be sky
Take as me this as beginning see
Once in keen light is your so ever I
When by alive my new else is—
How then to make us as we are like this
When where we must be such might seeds—
O see this is most by also try need
Say then above as all time is—
Be be as clear
Be be as near
Be be as here as the why is.
This poem first appeared in Every Day Poems.
ADVICE
A friend calls me who's crying about a boyfriend
And I can't say much to help because—
Because most of my time is quiet and I like flat land
Because I prefer pencils
Because I still don't have a microwave
Because all of my aunts were unmarried
Because I wear sheets like sarongs
Because I'm stooped
Because I've never been really poor or quick
Because I've never learned to order pizza out
Because I think tone of voice is important
And because wherever I go I always pack a vase.
I can't give much advice because
Those kinds of relationships
Are mysteries to me
Like sugar dissolving or cars that backfire.
This poem first appeared in The Evergreen Chronicles.
IF HE NEVER HEARS THIS
There's no pattern to what disappears
Nothing to make sure that our ideas are everlasting
Or repeated
In fact we can't predict what stays or lingers
Or leaves
It may be that wishing wells
Especially their walls
Know the secret of this yearning to endure
Somehow fireworks do too coming down
But mostly we know that everything we know
Is just water
And all we are is snaps
Never ask anyone anything directly
Be a swan's neck
So that you find out everything by guessing
And for balance
Imagine loving someone so much that it feels like
You are opening the lid of a jar
And then going
The boring point is this
The best friend to make is chance—
Do whatever it takes
To wake up tangled in the arms of maybe
Start to trust what you've done
For as long as a blink
Mostly think like a windy corner.
This poem first appeared in the washington review.
GOLLY
I don't know about you
But when a leafy branch comes in the window
I love it
Beyond common sense
In fact I love anything that's where
It's not supposed to be
And all the air around it
And what I live for more and more
Are the things that shouldn't happen
My best friend is the uh oh sound
Everyone makes
When a glass breaks
And my hero is whispers
One of these days
What I hope to notice
Before anything else
(Even before eyes)
Is shoulders
Because just like hills
They make me guess
At what I'll never know.
This poem first appeared in Facets.
Karen Jelenfy is a painter and writer currently living in mid-coast Maine, USA.  Her paintings and drawings are direct responses to the forests and seacoasts around her home. Observation becomes squeezed and battered by memory; the tangled world takes on color. Nothing and no one is at rest.
Hiram Larew is in wicked love with poetry.  His work has appeared in​ journals and collections, most recently, Amsterdam Quarterly, vox poetica, Honest Ulsterman, Little Patuxent Review, FORTH, Viator and Every Day Poems.  Nominated for four Pushcarts, he organizes poetry events, activities and conclaves that showcase wide poetic diversity and insights.  A global food security specialist by training, he lives in Maryland, USA. See his page on Facebook.