Illustrations by Ashling McKeever
Easter Thursday March 24th.
The Central Hotel flooded with dusty, hesitant sunlight, as I walked up the worn wide stairs into the library bar. Seamus Hosey was hosting his literary salon Cahoots. He looked dapper with a handkerchief that matched his shirt.
'Where is everyone?'
'They must have seen you coming,' he winked.
I held my ground and managed a smile.
'Really? You didn't even know I was coming. I just caught wind that you held the Cahoots salon here every Thursday. I assumed it was an open house.'
'Of course it is,' Seamus patted me gently on the arm but seemed to be looking over my shoulder for reinforcements.
'You must know where they are.'
'I'm afraid I've no idea, but I do know they are not in Cahoots.' He smiled, as he waved to the waitress for the bill. 'There is a strange plot afoot.'
'What kind of plot?'
'Oh my dear, I think this week there's a plan to do a big unofficial event to mark the centenary of the Easter 1916 rising.'
'A flashmob?'
'Don't ask me anything more,' he smirked,  'I've already told you more than I know myself.'
Seamus threw his jacket over his shoulder and left an ample tip for the waitress. He scurried off as if I was a bad smell.
I pocketed the tip and exited into the shabby light on Exchequer Street. Was I to be excluded once again by everyone?  I had not had an invitation to Cúirt, or even the lousy Dublin Book Festival in years. The Arts Council had rejected my last four applications. My agent had stopped answering my emails. Several key people had blocked me from Facebook. I was being unfollowed on Twitter every time I tweeted. In an age of amassing followers I had only my shadow, bound to my feet by an absence of light.
Easter Saturday March 26th 2015
Down by the canal the young Steampunk poet, Anthony Colcough, whooshed by me on a bicycle. Curly blond hair, like a foxes tail, twirled out of his top hat. I called his name and he hit the breaks and let me catch up to him.
'So when are you kicking off?' I said breathlessly.
He looked surprised.
'I've agreed to help out,' I said quickly. 'I talked to the others and I can manage the Twitter feed.'
'Didn't you go online? Eugene has chickened out and cancelled the whole thing for tomorrow. He sent a message to the Google group saying it was all off. Are you off to the emergency meeting at Judith's apartment?'
'Yes.'
'You're walking in the wrong direction.'
'Who's funding it all? The Arts Council?'
'Are you really in on this?'
As we walked back towards Harold's Cross, I couldn't help but feel pleased.
I knew they threw literary parties here, not that I'd ever been invited. I sat by the big windows overlooking the canal, and took in the sweep of the busy street leading to distant mountains. Dublin was a small town. There was an obvious end to it even from its centre. That both comforted and disappointed me. The flat filled up with people. I recognized some of them, but not all.
Irvine Welsh was tall and loomed over the others. I had learnt to find the most famous and powerful person at a literary event and stick like glue. I sidled over and talked to him at once. He seemed in good spirits but confessed he was jet lagged and wanted to cut this short. As I told him how much I loved his early work he seemed distracted by events unfolding on his twitter feed. Who could blame him? He wasn't Irish but had lived here for many years and was there, he claimed, in the spirit of his townsman James Connelly. I was hoping to get a glass of wine. Michael, Judith's poet husband, raised his eyebrows at me. We'd had words a long time ago and never quite patched things up.
Quincy, an American Poet, black hair flopping over his eyes, nodded at me, but I could see he didn't want to come over and talk. We used to do readings in Galway together. In fact when I met him he was just another obscure American grad student clutching a pint of Guinness and staring hopefully at the rain. I had introduced him to everyone. He was talking to the poet Dave Lordan. I had a falling out with Dave a few months back over a flaming email I had sent regarding a reading he had organized and left me out of.
Everyone paused when the regal Dutch singer and writer Judith Mok swept in. There was some fury at the postponement. They decided to go ahead on Monday. I stroked a fat cat on the window ledge, hair came off on my hands as I listened. Battalions of artists and other misfits would take over key sights in Dublin. They each had groups assigned to them, they called them all alphabetically, battalion A, B C etc. It wasn't to be just them. Many students and regular people were on board. Mostly from NCAD and Ballyfermot. I was shocked that they had 1000 volunteers to organize. It was going to be like a huge flash mob all over Dublin City in commemoration of the rising of 1916. They were trying to keep the buzz low and strike for surprise and maximum media impact on Monday.
'What is this person doing here?' Judith pointed at me imperiously.
'I thought he was doing the media for us.' Antony looked guilty.
'We have June for that.' Judith sniffed at Antony and rolled her eyes, pointing to June Caldwell the writer.
'What could go wrong there?' I scoffed.
Emer Martin began to pet the shedding cat. She was a writer with whom I had very little contact due to the fact that she was either living abroad most of the time or lost in the Jungles of Meath. She turned to me. Her accent was an off-putting mixture of U.S. and Irish. I wondered which one she was affecting.
'I see you infiltrated. Very clever. Are you going to betray us or do you want a part?'
'I'd love to take part.'
'Don't worry,' she said to Judith. 'I'll take him under my wing.'
'I don't trust him.' I could hear Dave Lordan say to Irvine, who had found the last bottle of wine at the party and didn't seem to care.
'It's too late now,' Emer said, 'We could use the numbers. My battalion takes over the National Museum and we've some heavy lifting and construction to do. Meet us at the top of Stephen's Green car park Monday at 11am and you're in.'
'What do I get paid?  Who's funding this?'
'Paid?' she snorted. 'What do you think this is?'
'I'm sick of doing everything for free just because I'm an artist. There should be part of the funding for the participants. How long will it take? Will there be coverage on RTE about this? We could get Rosita Boland to do a feature in The Times?'
'What's this got to do with art? We'll be there as long as it takes before they can kick us out. Or they answer our demands.'
'Very clever, very Meta. No art allowed. Of course,' I smirked as others turned away to their own strategies. A map was spread out on the table.
I marvelled at their earnestness.
After I signed up for the new Google group, I waited for Antony as he manoeuvered his bike into the small lift. I braced for his fury at my infiltration but he didn't bring it up. Instead, he talked animatedly as flocks of swans glided in the grimy waters of the canals.
'How do they swim those waters and remain so pristine and aloof?' I asked.
'Aren't you amazed at the huge amount of information our Commandant has accumulated?'
'It is most encouraging,' I ventured. 'In 1916 it was a military failure but became a symbolic gesture. This time it will merely be symbolic.'
As we walked by the Patrick Kavanagh statue it prompted me to quote: 'We are a dark people, forever watching the liar, twist the hill paths awry.'
Nothing could dampen this young poet's enthusiasm. 'You know I had you wrong. Here you are with us. I am a soldier and you are a soldier also.'
'I am an artist,' I said. 'A midlist novelist of minor repute. My backlist is out of print except the ones I've put up on Create Space. I won an obscure award a long time but no luck since. My new novel can't find a publisher. They're looking for bright young things like yourself, not worn out old entities. Maybe it will be good to be a soldier for awhile.'
Before leaving, Antony shook hands and intoned in all seriousness: 'We may never meet again.'
EASTER MONDAY March 28th
There was nobody to say goodbye to in my small neat room in Benburb Street. They had instructed us all to leave our own devices and phones at home. I hesitated, if it weren't for Facebook, I'd die of loneliness. I walked down the windy quays by the Liffey. Town was quiet for the Holiday. Homeless people shrank in doorways, bands of deflated watchful junkies shivered on the bridge. A Romanian beggar yawned as I walked by, he didn't even bother to catch my eye as a piper played under the arches of the old Dublin wall at Merchant's Quay. I confess I was stirred and buoyed by the music. I'd only ever wanted to be part of something.
In Temple Bar droves of people on bikes seemed to be mobilizing in formations. One of the commanders, Helena Mulkerns, spotted me and saluted. I saluted back ironically. There was a celebratory vibe in the air. I had somehow maneuvered myself to be part of things. Finally a door had opened. I had always comforted myself that when I was dead they'd see my greatness and shudder at my neglect.
In truth, even if I was Rimbaud, I had no Verlaine.
Emer Martin was standing on the roof of the car park at St Stephen's Green, with a group of about forty people, men and women, all dressed in combat gear. Fake rifles were slung over their shoulders. I didn't have a uniform and that set me apart, but she waved me over when she saw me. She had her hair nicely blow-dried and highlighted; she must have been expecting media attention.
'In 1916 they had to break down walls to go through house to house, but we have Twitter.' Emer explained to us, as her second in command, Alison Crosbie, handed us all smart phones. 'These phones are encrypted so they can't get locations or any other data. Keep posting and we'll keep morale up for everyone else. The hash tag is #secondrising.'
She announced that anyone who felt they were unable to take the final step was at liberty to leave.
A young, dark haired poet did hand over the rifles and equipment.
'Ná ní anseo ba chóir dom bheith,' she muttered as Emer gestured for her to hand her rifle to me.
We were Company D. Many were pushing dollies loaded with with Ikea flatpack boxes, which struck me as curious. In good spirits we briskly marched to the museum as people looked on curiously. No doubt they believed we were a legitimate commemoration amongst the plethora of commemorations that were happening that day. Even the Guards ignored us as we walked down Kildare Street and through the iron gates of the National Museum.
'Everyone evacuate this building in the name of the Irish Republic.'  Our battalion began to yell. I joined in this lark. It was good to hear my own voice so loud and commanding. I spent so much time alone facing a screen.
The fight was on. I was having a grand old time swinging about my rifle and play-acting. I even got a thrill at the terrified look on the face of the poor wee woman at the gift shop as she scuttled out the door. The guards were bemused and not budging until someone fired a shot over their heads and their faces blanched. The rifles weren't fake after all.
'That's a bit much,' I muttered.
We swarmed through the museum, herding the tourists out. There was not much fear; no one seemed to take it too seriously.
I was instructed to go down to the basement. We loaded the heavy stone Síle Na Gigs onto the dollies. Some were waist high and I sweated as I heaved them.
'I hope it's not some feminist shit,' I said to a young man with half his head shaved and the other half bright pink. 'I should have gone with Irvine Welsh. Where was he off to?'
We were instructed to bring the Síle Na Gigs upstairs. Alison Crosbie was filming everything and streaming it live on the web. They were very prepared, many of them NCAD students. In the theatre beside the Viking exhibition, they quickly assembled cabinets from IKEA and displayed the Síle Na Gigs in a circle. Emer Martin directed the proceedings, she had done her research and knew each piece and where it should go. They scaled ladders up to the ceiling ensuring each Síle Na Gig was correctly lit and had already nicely designed descriptive placards in front of each stone statue and a beautifully hand-painted wooden sign on the door.
Great care was taken with the artefacts. I sidled off in all the chaos and found myself by the The Lough Derg Sword. The notice read that it was recovered from Lough Derg, near Curraghmore in Co. Tipperary, and came from the heart of Brian Boru's powerbase. Although it was slightly later than Brian's time. It was a very fine example of an 11th century sword. I noted it was made of iron and decorated with silver niello and copper alloy. On impulse I broke the lock quickly and removed the sword. Half the battalion was instructed to stay guarding the museum and the rest of us were off on another adventure. Emer gestured to me to follow her.
'You must be kidding.' I gasped as I saw what they were up to.
Emer and Alison threw ladders up the side of the railings and, before I knew it, we were storming the Dáil itself. Now I was scared. No sooner than we were inside, we all took a window and the bombardment of our positions began.
'What are we doing here? I gasped. This is not any kind of art gallery?'
'Why are you so obsessed with art?'   Emer hissed.
Alison Crosbie was outside reading the new proclamation through a megaphone that was linked to a webcam she was streaming live on the Internet.
Irishmen and Irishwomen:
Ireland, through us, once again summons her children to her flag and strikes for her freedom. We shall rise again.
We declare the right of the people of Ireland to the ownership of Ireland, and to the unfettered control of Irish destinies, to be sovereign and indefeasible. The long usurpation of that right by corporations, banks merged with state, Church, and corporate power has not extinguished the right, nor can it ever be extinguished except by the destruction of the Irish people. In every generation the Irish people have asserted their right to national freedom and sovereignty. Standing on that fundamental right and again asserting it in arms in the face of the world, we hereby proclaim the Irish Republic as a Sovereign secular Independent State free of debt, neutral, and self-sufficient. We demand a new constitution demanding complete separation of church, bank, and state.
The Republic guarantees religious and civil liberty, equal rights and equal opportunities to all its inhabitants both those born here and those who have arrived, regardless of race, age, and sexuality. We declare an amnesty so that anyone living here at this time will be extended full citizenship. We extend rights to non-human animals living here, all forests, and to the land herself.
Signed on behalf of the Provisional Government.
There followed a long rambling list of demands as we hijacked the Dáil. There were so many I could only recall some, no more selling of forests, a ban on fracking, an end to debt payments, an exit from the Euro, no more funding of private schools, an end to homelessness, massive funds to be directed to education in disadvantaged areas, all those in prison for non violent crimes to be released, legalisation of all drugs and the taxes from their sales to be used for free treatment programs, a closure of all factory farms and abattoirs. If people want to continue to eat meat they will have to slaughter it privately.
'Free the chickens?'  I quipped. 'Was it for this a grey wing was spread on every tide?'
Though we were strictly forbidden to touch alcohol I discovered there were two bars in the Dáil and I scurried off and fortified myself with a few stiff whiskeys.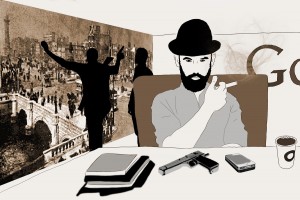 Tuesday March 29th:
The following morning my fears were realized. This was a real revolution not an escapade. I longed for my Spartan room in Benburb Street. Tuesday passed with the army ferreting out our positions and firing at us every opportunity they got. To my horror we were firing back.
We were two to a window with a dozen windows to guard. I was paired with Emer who looked positively deranged when I told her 'You can't just rise up again – times are different.'
'They were different then,' Emer said.
'But people believed in things then. After the 20-century carnage, we know war brings only squalor and misery. Why add to that?  Wasn't there another way of getting your point across?  Couldn't you just write it as a fiction? This is ludicrous.'
'The stakes are even higher now,' She ranted breathlessly in that awful accent of hers. 'We never really got independence. Church and State throughout the 20th Century controlled us and then we were sold to the IMF during the banking crises and crippled with a debt that was not the public's to pay. The global economy has been taken over by zombie corporations that produce oligarchs to run them. The wealth is shifting rapidly back to a Feudal age structure. These oligarchs have no respect for the land, our environment is being destroyed, soon the planet will be rendered uninhabitable for all but a select few. Writing is not enough to stop them. Publish a piece in a literary magazine? Who's going to look at that except the already aware and converted? It was ludicrous back in 1916 but it worked.'
'They were prepared to sacrifice themselves. To be martyrs they believed in Ireland as an entity worth dying for. This is preposterous.'
'We can be an inspiration to others to rise up and do something. Connelly wasn't doing it for nationalist ideas he was doing it to bring about a more just equitable society. That's whom I'm channelling. We have to do something.'
'No we don't. We're just poets and writers.'
'Who were they in 1916?'
She was both delusional and feeble minded so I gave up my argument.
Hooked up to the Internet I began to see what had unfolded and a grim swirl spun in the pit of my stomach. Fear, like a dank smoke, weaved through my intestines.
Helena Mulkerns had led Battalion C to take over the Central Bank. She was making bankers stand outside and inviting people to come stuff their mouths with the threatening letters they sent to take away their homes.
Irvine Welsh took over Dalymont Park in Phibsborough. I got information through his twitter feed.
@irvinewelsh I'm taking this bastard over, + the houses on the main road. Designing my own state of the art community football stadium #secondrising
@irvinewelsh With nice new bits but preserving existing bar under the Jody Stand #secondrising
@irvinewelsh Dalyer's great but badly needs a makeover + needs 2b more of resource 2 Northsiders #secondrising
Many of the relatives of the Magdalene Laundry women burnt down the Archbishop's house in Drumcondra. This was spontaneous and not planned.
As he foretold, young Lieutenant Anthony Colcough, was killed instantly as he took over RTE in Donnybrook.
A 78 year-old Wicklow man named Victor, met no resistance taking over the U.S. headquarters of Facebook, Amazon, and Google. They posted images of volunteers sprawled over brightly colored chairs by big windows looking out over a modern landscape that could be anywhere but Dublin. They demanded the right to disappear. The right to protect all your data from selling on to marketers. Encryption and privacy.
I was assigned to tweet from the Dáil, but all I could think of was the one line of Irish that echoed through my head. The words uttered by the dark haired Irish language Poet as she handed me her gun.
Ná ní anseo ba chóir dom bheith.
I shouldn't even be here #secondrising
Wednesday March 30th:
I had not slept. A cold feeling of dread and misery crept into me. I thought of jumping out of a window and surrendering. But would they believe that I had no idea what I was getting involved in? The Army had seemed reluctant to destroy the building so we had that in our favour. Then the Army got ladders and scaled the walls.
I quickly grabbed six volunteers and positioned them to prevent the advance.
Alison Crosbie was badly injured, so I was now Emer's second in command. I swallowed my resentment at taking orders from a 5ft nothing woman with highlights. We were fighting at very close range, say twenty feet. I yelped in exhilaration when we succeeded in beating the army back. Our dead were piling up with no place to bury them.
Maybe I was becoming as mad as them. The delirium of the brave, as Yeats would have said.
I kept an eye on the Twitter feed.
Judith Mok tweeted from the Rotunda demanding free no questions asked abortion services for all women who requested it.
@judithmok Women at the Rotunda full of love and no way out. That's where we headed  #secondrising
@judithmok Young doctors getting it right. One 4 all. Matron a Good Woman. We keep her on #secondrising
Quincy took over the Starbucks in Temple Bar.
@quincy Starbucks totally has it coming. Oh, not because of big, bad globalization—it ain't Koch Industries or the U.S. Air Force #secondrising
@quincy taking over Starbucks  is easy. Swipe the public toilet key, and the place will empty in half an hour. Tops. #secondrising
@quincy where's my goddamn Frappuccino? Down with moustaches! Down with identikit vaguely hip drinkers of shitty-ass coffee!  #secondrising
Hilary Dully made her plans for Trinity College.
@Dully I've taken Trinity College, Dublin, an institution bravely defended by unionist students in 1916 #secondrising
@Dully all that brainpower can be harnessed. Mind games for the revolution, anyone? #secondrising
June Caldwell took over Carrolls Irish gift shops. I couldn't get her tweets because she blocked me as usual.
At one point I fell asleep against a wall and dreamt of wolves. Wolves all over Dublin. Yellow-eyed packs roaming loosely through emptied streets. My own screams woke me up. Alison Crosbie nodded at me from across the room, she was frazzled and the whites of her eyes as yellow as the sun. We were the wolves. Hunted to extinction after Cromwell. The hidden wolves returned.
Thursday March 31th:
There had been constant noise of helicopters but they stopped suddenly. It was quiet, except for the echo of shooting spasms all over the city.
Dave Lordan had Brown Thomas.
@davelordan taken over Brown Thomas on Grafton Street. top floor is used by my craic-smoking death squad for artillery and assassination #secondrising
@davelordan 3rd floor a grow house + perception-expansion laboratory. #secondrising
@davelorndan 2nd floor a fully equipped counter media centre, de-education unit, exhibitionist space, +vegan canteen #secondrising
@davelordan basement one enormous bed for all varieties of adult consensual non-reproductive sex, with a narco-enhancement + dispensary service #secondrising
Then they shut down the wi-fi all over Dublin.
'We might have to burrow through walls after all,' I gloated to Emer when, like a petulant teenager, she flung her smartphone against the wall and the screen cracked.
Then it began. Like thunder. The continuous dull roar of artillery. Dublin was burning.
'What have you done?' I sobbed in fear.
'What have we done? You mean.' Emer betrayed no expression. The mad are often hard to read.
She motioned me aside and took aim through the glassless window, an answering shot whizzed by her head.
They had turned a machine gun on us. Angry wasp bullets flew around the room before burying themselves in the plaster walls and the wooden furniture.
The shotguns they had distributed were of such bad quality they were dangerous to us too. Alison Crosbie had contrived a means of inserting a couple of these inferior shotguns into a metal rain pipe and firing the triggers by means of a string. Though this was not an effective weapon the almighty splattering of the shot seemed to stun anyone approaching. I wonder if they thought we had a new weapon of which they knew nothing. I took this over from the wounded Alison, as it allowed me to make a lot of noise without having to actually kill anyone.
A bullet scorched a line across Emer's cheek at least three inches long. She watched me watching her.
'You're hoping I might die, aren't you?'
'I feel no one took the time to explain to me the nature of this fight. I thought it was an art escapade.'
'Are we friends?'
'Have you ever read anything I've written?' I asked her. She shook her head.
'Then what does it matter if you die,' I said.
She nudged me, 'I will read some of your books when this is over.'
'Never underestimate the hatred writers feel for each other,' I shrugged. 'It's not just the poets.'
Night fell flat upon us and a menacing quiet enveloped us. A poor stray horse dragging some chains after it, wandered up and down most of the night in the courtyard of the Dáil.
FRIDAY APRIL 1st
'Maybe we should just run out and tell the people it has all been an elaborate April Fools Joke.' I said to Alison, her wound was stinking and she was dying.
I began to feel very close to the other volunteers. None of us had any experience of danger at all up to the Monday of Easter week. The artillery fire wasn't so bad there was a strange comfort in counting the interval between the flash and the noise of the explosion. But the bursting of grenades and the continuous machine gun was horrific. We were reduced to crawling on our knees and only rising at certain marked positions to fire out from the windows.
SATURDAY APRIL 2nd
Our ammunition had run out. We had no communications with the outside world since they had cut off all wi-fi shutting down communications in an instant. How had they not accounted for that happening? Or were they just prepared to fail so utterly. There was talk of surrender.
An old woman made her way through the barricades using the password Victory Ninety Eight. She told us we should surrender. We had done enough. There was no winning. There never had been.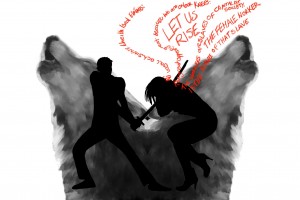 SUNDAY APRIL 3RD
Acting as a messenger, I waved a white flag and carried some wounded out. I talked with an army officer stressing that we were prepared to discuss some conditions of surrender.
'You are all rebels and outlaws, and you will get none of the amenities of war.' He barked in disgust.
I turned back to go and convey this to Emer but then I saw the Dáil burning and knew that the bodies of our comrades were being consumed in the flames. It was over. People were fleeing the scene with their hands up.
In all the chaos I ran through the flames and found Alison.
'Go surrender,' I told her as we embraced. 'Let it go.'
'It was a valiant effort,' she said. 'What about you?'
'Ná ní anseo ba chóir dom bheith.'  I told her. But she had no Irish. That too had failed in the republic we had created.
I found Emer crawling over shards of glass on the floor almost overcome by flames. With the Sword of Lough Derg under my arm, she looked up at me as if not knowing what to expect. I dragged her out of the burning building. We managed to make it through the barricades and onto Merion Square.
'I'm not running away,' Emer managed to say. 'I'm ready to face the music. The end is the most important part. I need to get to the end.'
'I can get you to my flat in Benburb street. They hate us. We're hated. No one cares,' I screamed at her. 'They'll lock you up for the rest of your life in the lunatic asylum where you belong.'
'At least I could write there.'
The thought of her writing disgusted me. The thought of all of them still writing while my work withered in the shadows. They would go on writing, having left a world of carnage and destruction. That she even thought her writing mattered was insufferable. I swung the thousand-year-old sword of Derg over my head, as she staggered in front of me. Her face contorted in confusion as the sword cut her head clean off. Emer's decapitated body lay at my feet. I picked up her head, which was surprisingly light with all the thoughts gone out of it. All those words, like mad electrons, gone gone, gone. With both hands I pressed her head down on the spikes of the railings of Merrion square right in front of the Arts Council. I thought that fitting since we had applied for bursaries in the same year and she got one and I didn't. Blood and brain oozed out of her neck onto the flakes of the railing. Her eyes were wide open with the same look of confusion and surprise.
I slipped away through the profusion of tulips in Merrion Square and on home through the ruins of the city. I had not incriminated myself. I had only ever tweeted.
Ná ní anseo ba chóir dom bheith #secondrising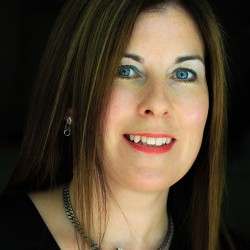 Emer Martin is a Dubliner who has lived in Paris, London, the Middle East, and various places in the U.S. Her first novel Breakfast in Babylon won Book of the Year 1996 in her native Ireland at the prestigious Listowel Writers' Week. Houghton Mifflin released Breakfast in Babylon in the U.S. in 1997. More Bread Or I'll Appear, her second novel was published internationally in 1999. Emer studied painting in New York and has had two sell-out solo shows of her paintings at the Origin Gallery in Harcourt St, Dublin.  Her book Baby Zero, was published March 2007. Her children's astronomy book Why is the Moon Following Me? was published 2013.  She produced Irvine Welsh's directorial debut NUTS in 2007. Emer was awarded the Guggenheim Fellowship in 2000. She is the founder of Rawmeash, the publishing cooperative. She  lives between the jungles of Co. Meath, Ireland and Silicon Valley, California. Her websites are www.rawmeash.com and www.emermartin.com
Ashling McKeever is an artist and illustrator.  She lives in Dundalk, Ireland.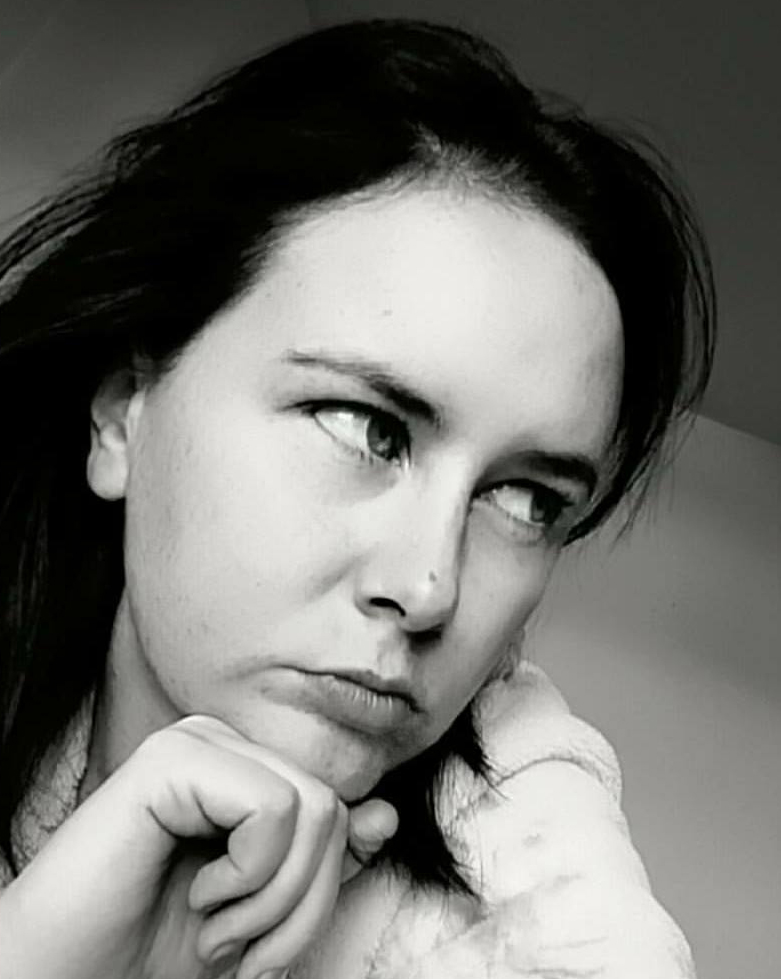 DEAR READER
At The Wild Word we are proud to present some of the best online writing around, as well as being a platform for new and emerging writers and artists.
As a non-profit, the entire site is a labour of love.
If you have read the work in The Wild Word and like what we do, please put something in our tip jar to keep this amazing platform alive.
THANK YOU FOR YOUR SUPPORT!