We love artists at The Wild Word.
Our Artist-in-Residence page provides a space for artists to showcase their work and to spread their creative wings.  In their month of residency, invited artists are encouraged to collaborate with other contributors within the magazine, to experiment and develop new projects, while giving us an insight into their creative process.
Our THE HEAT OF THE SUMMER issue Artist-in-Residence is poet Marianne Szlyk.
Writing Poetry in the Summer
By Marianne Szlyk
When I started writing poetry in 2011 after two years short of a quarter-century break, I promised myself that it would not interfere with teaching, that, during the semester, I would concentrate on my students and my classes.  As the summer draws to a close, I feel antsy about my writing.  I know that I do not have much longer to draft poems, so I jealously guard my time.  Yet I worry that I will feel the urge to continue writing poetry even when the semester and its five classes start.  Coming at the end of the summer, being an artist in residence becomes both blessing and curse.  Of course, I want to be able to make the most of this opportunity, but I worry that it will take time and energy from starting my five classes, easing my students into the semester, and participating in the service activities that the department and college always seem to come up with each year.
For the most part, my poems are summer poems, conceived and birthed during this season.  As I tend to write in season, these poems are about the summer as well.  For some poems, this means the freedom to travel.  For others, it means the suburban and urban nature that grounds them.  For still others, summer signifies the claustrophobia I feel when I hide away from Maryland's heat and humidity—and the anxious frustration when I emerge from my house to crawl to the gym, my father's, or Metro.   I would wish for fall's cool and crisp weather, but I do not have time to write in that season.  My escape from the heat is writing about summer further north.  (I haven't tried writing about other seasons.  Strangely enough, it feels like cheating for me.  Although I do not write haiku, I admire its grounding in each season.)
The Wild Word's theme "The Heat of the Summer" compelled me for all of these reasons.  "Fusion #1" depicts the worst weather of summer, when the heat tortures me—and the people who walk the other way seem unaffected.  They may even be wearing jeans!  Furthermore, most of the people in my neighborhood have darker skin than I do, so sunlight is less fraught for them.  For me it means worries of blotched skin, skin cancer, and melanoma.   "Tonic" portrays summers in New England where I grew up, as well as the transition from childhood to adolescence.  In childhood, one's family shapes one into an individual, but as an adolescent, one becomes more typical, wanting the sun and fun that everyone else seems to have, submerging one's identity and desires into those of the crowd.  The Seekonk that I imagine in the poem may have more than a little Southern California in it, but more of the Southern California one sees in reruns of shows from the 1960s and early 1970s.   I wouldn't actually see that part of the country until I was a young adult traveling to grad school at the University of Oregon, and even then only from a train window.  Finally, "Music for the Drought" reflects my response to Miles Davis' late album Amandla in the morning of another hot day.  Who knows how the music would have sounded if I had been able to write a poem in another season?
As you may have guessed, summer is not my favorite season.  Before I became an academic, I preferred taking my vacation in the spring or fall so that I could spend my summer time at work in the air conditioning.  Even now spring is my favorite season.  I love how the day lengthens.  I love seeing first the forsythia and crocus, then the surprisingly early magnolia blossoms, the leaves of maple and tulip trees, and finally roses and irises appear in my neighborhood.  Fall is my favorite season for fashion as I enjoy wearing tweeds, wools, jackets, long skirts, jeans, and even boots.
However, summer is more than just the tension between vacation and weather.  Writing in the summer gives me the opportunity to explore different topics and then to wipe the slate clean in the fall.  Looking back on each summer's batch of poems, I see how my approach varies from year to year, taking on different topics, perspectives, and even techniques.  Reading over my earlier poems, even poems from last summer, I realize that I have written fewer persona poems this summer.  I continue to write in third person, but fewer fictional characters inhabit my poetry these days.  Despite these changes, place and environmental themes have always been especially important to me.  Unlike many Americans, neither my husband nor I own a car.  I have never learned to drive.  Instead, I walk a lot.  Walking around Rockville, I have become concerned about our environment and climate change.  Rising temperatures and erratic weather patterns make it more difficult to get around in a landscape that is more suited to cars than to people.  It is true that Montgomery County does have a good public transportation system (for the United States), but sometimes it is easier and more pleasant to walk.  I also wonder about the impact of future climate change, especially the rising sea levels and changes in plant life, some of which we are already seeing.
Last summer I began my experiment with counted verse, focusing on the number of words in each line.  Most of the time I limit the words in each line from my very first, handwritten draft.  I find that this structure enables me to polish my poem more quickly.  After all, the format is set.   At first, I also worked in two and three line stanzas, lacing the poems into a tight structure.  This summer I am continuing to work with counted verse, but the stanzas are more irregular.  Some poems are even one unbroken whole.  "Music for the Drought" appears to be a throwback to last summer since I am experimenting with haiku-stanzas.  Counted verse gives my poem a certain structure, but I am also beginning to question its limits.  "Tonic" began as counted verse, but, during one of the later drafts, I changed the line breaks to something more organic.  "Fusion #1" never was counted verse.  It began as a prose poem.  Perhaps next summer I will try something different.  After all, I will be wiping the slate clean at the end of August.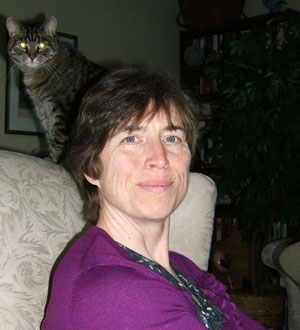 Marianne Szlyk is the editor of The Song Is…, an associate poetry editor at Potomac Review, and a professor of English at Montgomery College. Her second chapbook, I Dream of Empathy, was published by Flutter Press.  Her poems have appeared in a variety of online and print venues, including Silver Birch Press, Cactifur, Of/with, bird's thumb, Truck, Algebra of Owls, The Blue Mountain Review, and Yellow Chair Review.  Two poems have received nominations for Best of the Net and a Pushcart Prize respectively.  Her first chapbook is available through Kind of a Hurricane Press.  She hopes that you will consider sending work to her magazine. For more information about it, see this link: http://thesongis.blogspot.com/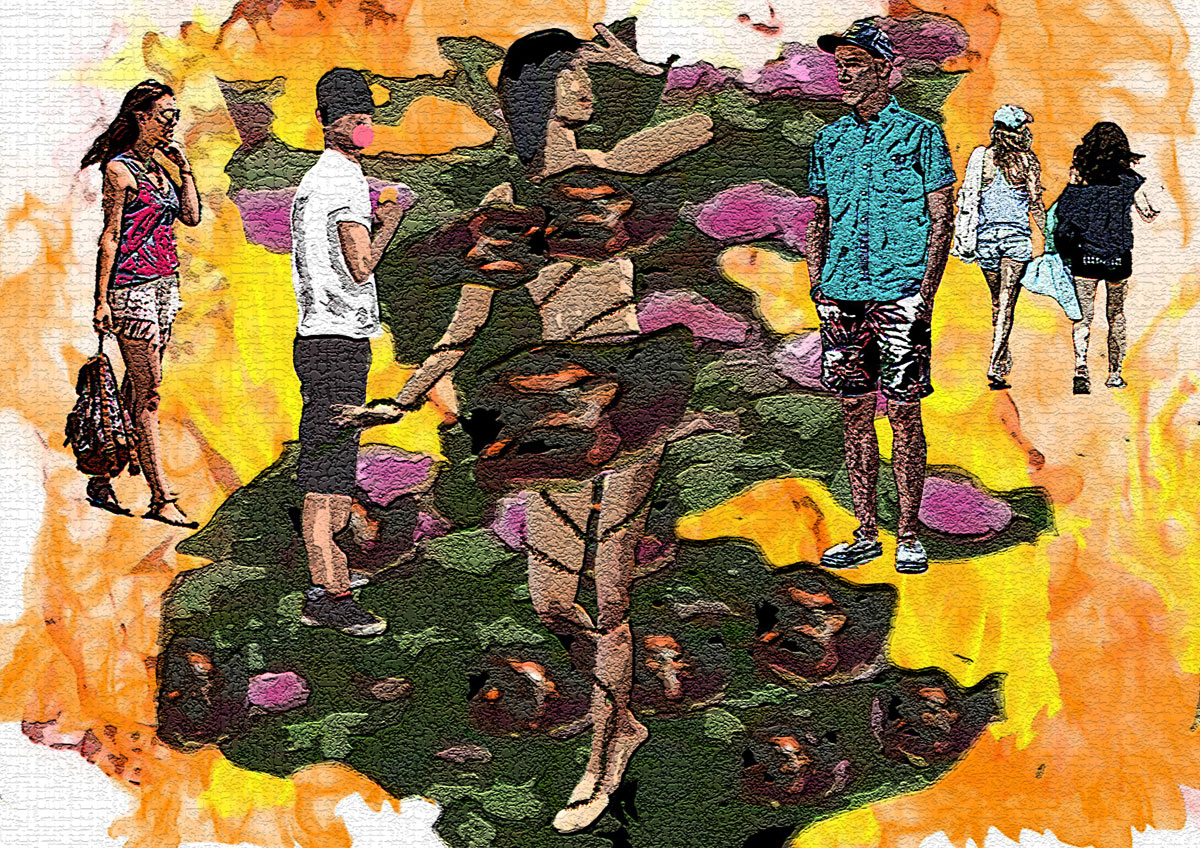 Image by Ashling McKeever
Fusion #1
The act or process of liquefying or rendering plastic by heat
She knows it will never be hot enough to melt plastic,
but this humidity is like a shopping bag
melting around her face and arms.
Fumes bitter the air.  Sky and earth
barely blot out the liquid.  Soon
acrid waters will rise from the lawns
but not fall from the skies.
Marigolds and asters become hard to the touch,
break off like the fake flowers
in her mother's closet.  Pink roses melt
into brown goo.  Their bush withers
to a thorny stick.
Her bones and marrow melt
as she inches home, much more slowly
than her usual clip.
Teenagers bounce past her, eating
orange potato chips and drinking
radioactive yellow sports drinks
from the Chinese bodega.
The girls bubble up like soda,
checking the latest social media.
They resist this fusion.
She cannot.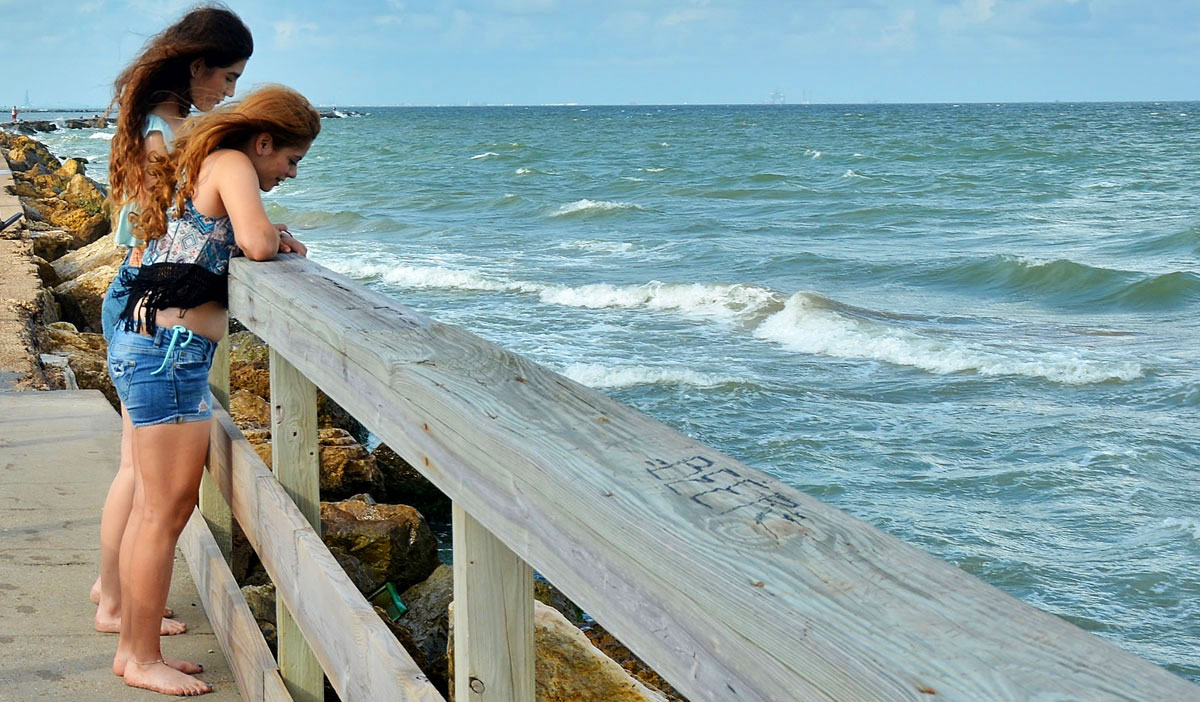 Image by Juan Tituana, Copyright 2016
Tonic
Chiefly Eastern New England: soda pop
Morning thunderstorms keep us home,
away from swimming lessons and
the round of suburban errands.
Heavy, buggy clouds rumble;
lightning flashes beyond the pines.
Yesterday's humidity still clutches at us.
My mother sends my brother
to the basement to shut off
the electricity.  The fan sputters,
then dies.  We listen
to a transistor radio.
Jagged static interrupts
last summer's soft rock hits.
I sneak diet ginger ale
before it is tepid and flat.
Next summer I'll be working
for my father in the city
in the air-conditioned,
windowless office
on Dorchester Avenue.
Drinking icy cans of Pepsi
from the corner store,
listening to the Providence station,
I will imagine summer in Seekonk.
It blazes with classic rock
and feels as smooth as coconut oil
while storms keep my brother
and my mother home.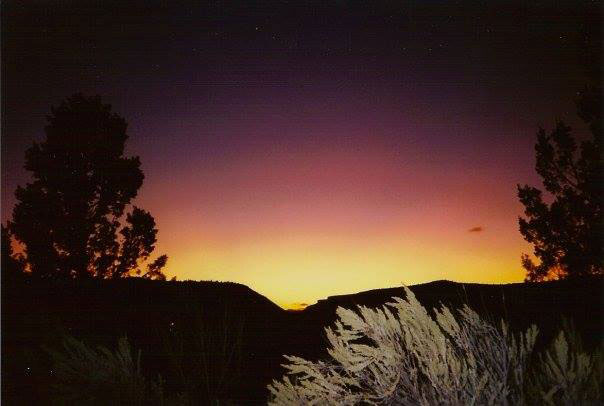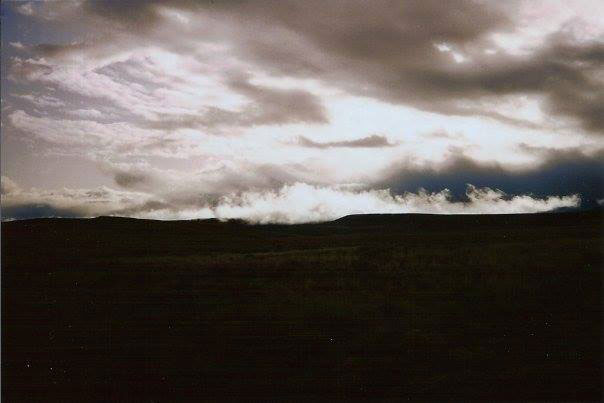 Images by JD Moore, Copyright 1992
Music for the Drought
                After Miles Davis' Amandla
Metallic trumpet
rises like heat mirages
over cracked asphalt.
Early morning drums
echo like the sidekick's fingers
on his closed window.
Eastern Oregon:
a blank land before breakfast.
Mountains are just haze.
Rainclouds hug the coast,
days away from this road trip.
Keyboards mimic rain.
It will not fall here.
Miles' trumpet scorches white
earth one cannot own.