DUET OF AMPLIFIED MUSICAL SEWING MACHINES – 'I Know You Know'
In Conversation with Stephanie Müller and Lisa Simpson
Our Duet of Amplified Sewing Machines is based on a buzzing collaboration between underground artists and musicians from Germany, South Africa, Ukraine, Brazil, Spain, the USA, the UK and Japan. Lisa and I both share a fierce love for sound experiments and improvisation. Lisa has been playing the Singer, her amplified musical sewing machine, since 2003. Originally from Brazil, she has a master of Applied Arts from Emily Carr University of Art and Design in Vancouver and currently lives and works in Berlin. I'm a visual artist and sociological researcher based in Munich. Together with Laura Theis, an Oxford-based songwriter with a background in theater and literature, we initiated the experimental music project Beißpony. In 2013 our debut album Brush Your Teeth was released on Chicks On Speed Records.
In winter 2014 Lisa and I met for the first time during Lisa's scholarship at the Villa Waldberta, a space for artists in residence nearby Munich, and bonded through our mutual love of music and mending. Since then we have been performing together with our Duet of Amplified Sewing Machines. This September our collaborative album Alligator Gozaimasu has been released on RagRec. Just imagine an amplified tea ceremony with DIY punk spirit and a fierce love for minimal sound experiments.
Sewing machines have always been around us, to the point where we both had the idea to amplify the sound of sewing. Both of us started sewing around 2003, Lisa in Brazil and I in Germany. Lisa has a fashion art project called Agente Costura and my project is called Rag Treasure. We both share a love for experimental music and each of us is involved in different music projects, besides our fashion and textile art. For us it feels very organic to use the sewing machines as instruments and we like the idea of making music out of making clothes.
We both see the sewing machine as a potential sound-making tool—like playing an electrical guitar, a synthesizer or the drums—with endless possibilities to create a range of special and delicate sounds with them. We prepare the machines in order to use them as drum machines or to trigger melodies and to produce lots of interesting sound fragments during our live sewing sessions.
Another reason to put the sewing machine as the centre of our performances is that we are both interested in crossing lines between different artistic disciplines. Not only do we use the sewing machines as instruments, we also create clothing during the performance, inviting the audience into the garment production process. When we are on tour, we are interested in challenging both the audience and the venues that host us, with our unconventional set up, which is far away from common indie or rock standards. Besides our prepared sewing machines and parts of a drum kit, we also have a selection of other handmade instruments with us: for example a skateboard transformed into a slide guitar, amplified scissors or textile telephone receivers with text and music implants.
By transforming wardrobes Lisa is bringing forth a discussion around the sustainability of the fashion industry. I also love to use textile strategies in order to question social deficits and exclusions. Working with textiles provides certain flexibility, because it is a material that is familiar to most people, becoming a good basis for an open-hearted discussion.  Our music sessions are not just based on generating noise, sounds or melodies; the machines are also used as tools for textile production. We like to play with the idea of excessive demand. Nowadays, people tend to expect spectacles otherwise they are bored, they expect a certain conventional show, but during our live sessions they are not only delivered music, they also have to listen to the noisy sounds of the machines and they have to watch whilst we are working and creating.  One could say that a textile object or a dress that emerges from our live session can be read like a very special improvised musical score that can't be repeated. We both like this idea a lot.
So far, all of our live sessions have been improvised. We like it if it can't be repeated, and we always want to challenge ourselves to create different situations. Of course, we both have a repertoire of favourite sounds, musical tools and instruments. But the way we use them and bring them together is always different. Working collaboratively also allows for different soundscapes depending on the participants, who bring in their various inputs. The only score we may have comes from the clothes we choose to make during each performance!
For both of us our work is definitely a feminist statement. We are always searching for new perspectives and we like to challenge the standards. People often assume that sewing machines are domestic tools mostly used by women. In our performances, we alienate our machines from their original context, which is usually either the industry or the private space. Instead we transform them into amplified musical instruments and put them directly into the spotlight center stage. We also see the Duet of Amplified Musical Sewing Machines as a platform to invite other artists, such as performers, dancers, musicians, writers or filmmakers to collaborate with us. Our last show in Berlin we performed together with Angela Muñoz (nunofyrbeeswax), a drummer and dancer from Madrid, and with La Bernadette, a singer songwriter from Vienna. In Munich we have collaborated with filmmaker Klaus Erika Dietl and with Gülcan Turna, a visual artist from Eskişehir (Turkey). For us it is important to share our skills and knowledge, to let other people become part of it and to spread the word.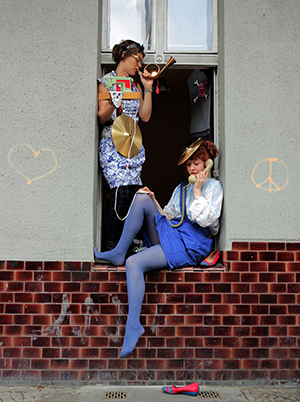 Lisa Simpson has been playing the Singer, an amplified musical sewing machine, since 2003. The Brazilian artist graduated at the Emily Carr University of Art and Design (Vancouver, Canada). By transforming wardrobes Lisa is bringing forth a discussion around the sustainability of the fashion industry. She currently lives and works in Berlin. Stephanie Müller is a visual artist and sociological researcher with a fierce love for experiments and improvisation. In the winter 2014 Stephanie met the Berlin based artist and musician Lisa Simpson aka Agente Costura for the very first time. Since then they have been performing together with a duet of amplified musical sewing machines. This September their collaborative album "Alligator Gozaimasu" will be released on RagRec.