Bird of Paradise
Its leaves are like hollowed green bananas
set to float like canoes or catch rain clues
Its birds hear with their peeled orange rind ears
turning to listen to whispering wind
They nod their colorful heads like pump jacks
extracting solutions from deep below
The white tips of their blue stamen runways
guide sunbirds who might have hints in their songs
Each bract gives birth to birds on distinct paths
denying belief there is only one
Every bird born of the plant already a part
of paradise     but they all keep looking
Karma
You want proof.
Okay. It's the dust from the yanked
butterfly wing—remember the one—that
catches up and impacts your eye
at the four-way intersection.
It's the chunk of stew beef
stuck in your throat, choking you because
for a microsecond it reminded you of that
venison you shot out of season.
It's the distracted knife gash in your hand
that flash of nostalgia—your best friend
baking buddy—the one you were jealous of.
The one whose spouse you told infidelity lies.
It's the fortune you gained through beguile
now lost to newfound love
when you dropped your guard because you thought
you could sense in others what you are.
And so the list goes on. The specks of conscience
working their way up and out. Landing on the scale. 
Dementia
How's our Dad?
I nod. They knock
slowly, softly
and then enter…
their telescope eyes looking
for someone or something
behind a disguise.
When they leave,
I see their smiles
as the twinkles in his eyes,
moving him silently inside,
like pine needles in a breeze
forming waves of joy
only he knows.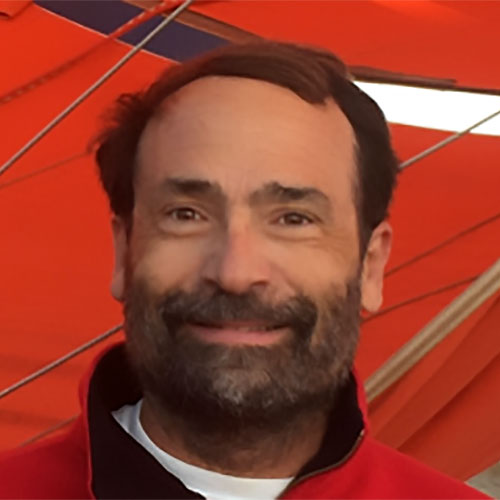 Richard L. Matta grew up in New York's rustic Hudson Valley, attended Notre Dame, practiced forensic science, and now lives in San Diego with his golden-doodle dog where they spend many hours boating on the bay. Some of his work is found in San Pedro River Review, Dewdrop, New Verse News, Gyroscope, and Healing Muse.