By Tim Clark
The NCAA college basketball tournament is here. March Madness, so big it spills into April. Hoop, baby hoop. Nothing is more exciting: non-stop action, nail-biting drama to the final buzzer. Well, except for the last minute, when the endless time outs and intentional fouls stop the game clock, and seemingly time itself—"I'm going to go make a sandwich, anybody want one? I'll be back for the next timeout."
Still, it is a feast of fury, athleticism, and screaming fans. Each game has terrible consequences, two teams enter—only one survives. Win, or go home, there is no second chance.
And the brackets, the sweet, sweet brackets, calling the riverboat gambler in all of us. One pristine sheet, really just a rapidly reducing diagram of dreams, containing 64 teams. And all you have to do is pick who wins every game, in every round, before it even starts. Each round narrows, by half, the hopefuls. 64 becomes 32. Is your champion still alive? 32 becomes 16, the Sweet 16. Eight of those go home, and the rest are the Elite 8. Do you even have any teams left? Eight becomes four, and not just four, the spectacular Final Four, the dream of everybody who ever laced up a pair of sneakers. After that it is only two, and only one goes home happy. And for some reason I still love it.
People who don't even watch basketball play bracket challenges. Presidents have played brackets.  It has even spawned a new word, a new profession, maybe a new branch of magic; Bracketology. And when March roars in bracketologists are everywhere.
Since it is such a new, evolving, inexact science I decided to go in search of the "system."  I asked everybody, everywhere. There is a method to almost every madness, even March Madness.
I asked my online friends, friends I have never met, I will probably never meet. Some of them I don't even know their name, not their whole name. One of them who lives overseas and was not aware of the tournament, let alone its grave implications told me, "I don't know what that is but good luck. Eeny, meeny, miny, moe is always the best way to pick teams." Worked for me for years. Another friend, from the UK, who also did not know about the dilemma of the brackets told me "I tend to go for the shortest, least athletic, least popular team. Then they don't feel bad." My online friends are great.
A brief survey of my co-workers* led to the following Bracketology practices. Our shipping guy said he would pick the higher seeds, to a point, then it would be random. Our IT guy said he would mostly go with his gut. He doesn't watch a lot of basketball, but knows enough to trust his instincts. To be fair, though, neither of them cares much about basketball and only answered my questions to be polite.
My assistant, Bill, who never watches basketball, football, baseball, or any sport, said he would either flip a coin, or choose which place he would rather vacation. It is hard to argue with his reasoning. He came in second when we had a college football bowl competition, using the well-tested vacation-choice method. Colorado played Iowa—he thought the Rockies sounded more appealing than the Midwestern Plains. Plus, he actually won the only NCAA bracket challenge we ever had choosing teams by flipping a coin.
In a sad footnote to that story of glorious good fortune, the person who was spearheading the pool was either fired or quit, depending on which version of history you prefer, taking the small fortune with him. It is remembered in the $30.00 to $40.00 range.  In a sad footnote to that sad footnote, during Bill's first week of employment he bought some leftover pizza for lunch. Somebody ate it before he got the chance. It ruined his day when he went to lunch and his pizza was gone. He might be cursed.
We have a friend who is a Mensa member, and manages an accounting department at a large property management corporation. Meticulous and thorough, she loves numbers, and research. Making lists is one of her hobbies. She told me she looks at what the experts predict, and pays attention to teams that have a history of winning. Extrapolating from this raw data, she charts the probabilities. Man, she can make some beautiful charts, her Excel abilities are phenomenal. She once won her company pool, and came in second once as well, so she has some Bracketology chops, too.
My wife has grudgingly become a college basketball fan, mostly in self-defense. Every year she has a bracket. Her system is having one of our sons choose her teams. They pay attention, they have the ESPN app on their phones. ESPN leads the world in the production of Bracketologists.  My wife usually does pretty well, but it is a tough run, when you compete with people who fill out your bracket. She is happy, though, she has a bracket, and doesn't have to fill it our herself, which leaves more time to enjoy life, and the pleasant company of a charming husband, or at least a husband.
My bracket is easy. I find the team I like, no matter where they are seeded, no matter how far down the bracket pecking order, and pick them to win it all. If I were to pick my favorite team to lose in the third round, and they lost in the third round it would crush me. I would have to carry the weight of that for a whole year. I never win, but I can live with myself.
Over the course of so many years I have developed a special relationship with "my teams." I will get a little misty eyed as I tell my wife about the days of Dr. Dunkenstein or Danny Manning, and she will say, "Would you get me a Diet Coke, please?"  And I will. What do wives know about the special relationship a man has with history?
There is no wrong way to watch the games. And there is no right way to pick a bracket. If there were some golden words to live by in March, and early April they would probably be "That ref must be blind."
Enjoy the games, I will.
*There was a lot of "Go away, I'm busy," (too busy to participate in profound scientific research?) and a few "Don't you have anything better to do?" (What could be better than this?). Not really, my co-workers are too nice to say that.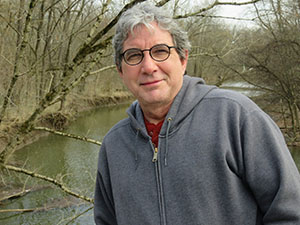 Tim Clark is a writer, blogger, novice political activist, husband and father, from Columbus, Ohio.  He has proudly written for Street Speech, a local homeless advocacy newspaper and Lefty Pop.