By Síofra Kildee-Doolan
I'm Síofra, and I live in Dublin, Ireland.  I'm nearly 12 years old and I live with my three little brothers, my mam and my dad.  I am in 6th class.  I don't really like being the only girl in the family, as I would like to have an older sister I could ask advice from and borrow stuff from too.
My mam is from Flint, Michigan, U.S.A.  All of my aunts, uncles, cousins and grandparents live there.  My dad is from County Cork.  My grandmother and aunt still live there. The rest of my family live around the world. It's hard for my parents to bring four kids anywhere, but I would like to see our family more often.
I have two very close friends where I live and we see each other everyday.  There used to be four of us but two of my friends and I became distant.  They made new friends and go to places I'm not allowed go to.  When it was the four of us we used to argue so we decided it was better to go our own ways.
I go to school in the middle of the city centre.  I have loads of friends in my school. I'm not really friends with the popular kids, but I do talk to one of them as she goes to choir with me.  The popular kids from school are all from the inner city. They wear the latest clothes and are "cool." They act like they don't know anything about Irish or maths and hate school. They get everything they want…well, that's how they act, anyway. Being popular means the younger popular girls look up to you. Younger kids also like me, they know me because my mam's a teacher and I've been the lead in the school plays.
I go to choir and sing at Mass and at concerts.  It is a girls' choir and there is a boys' choir, too, but they were founded way before the girls.  The two choirs never get treated the same. The boys are put first and we always are put second. The boys get the most attention although we work equally as hard. They get longer trips, prime time masses and the times and choir sessions are switched to accommodate the boys. They are given more funding and we are not allowed many fundraising opportunities. I think it is this way because one of the priests doesn't like us and is also sexist. I feel very annoyed and I don't think it's right. I would like it to change and for things to be equal. It's the only place I've ever been that has been sexist towards me or girls I know. The choir has gone to Derry, Belgium and Paris to sing in choral festivals.  We have sung on the radio, television, in the National Concert Hall, Farmley House and the Mansion House in Dublin.  We are going to Liverpool in the summer.  We practice twice a week for 3 hours.
I also box twice a week and I have gotten much more fit than I was before.  I got interested in it when two of my friends joined. They've since quit, but I stayed. Boxing is considered a "male" sport: but girls are just as good as boys. There are no female coaches. I have loads of friends in boxing, but there are only three girls in my class so I don't get proper fights as often as the boys do. It would be great if more girls joined the boxing club so we had more opportunities.
Next year I'm going to secondary school and I'm really scared I might miss the first day of school because we'll be away on holidays to the U.S.A.  I've heard if you miss the first day of school you don't get a locker.  I am excited but a bit worried.  I go to a primary school so far away and I only know one girl going to the secondary school. I'm also a little worried I'll fall behind or won't make friends because it's a new school and place. I am probably going to do art and music because I love both those subjects.
There is a pressure where I live to fit in, and have the latest clothes and the latest gadgets.  On social media other girls my age are always worrying about likes and comments and followers, which I don't really care about.  I am not allowed on Facebook.  I am only on Snapchat and Instagram and use those to text my friends and family. On Instagram I post selfies, quotes and pictures of my friends and me. I'm only on social media so I can communicate with others. But I don't like the way I'm always contactable. Sometimes you just want time to yourself but everybody's texting you and expecting a reply immediately. I have my own phone and my parents let me have it most of the day but take it off me at dinner and when I go to bed. My mam tells me what I can put up on Instagram and what's appropriate but I would go to her with any problems or fears I have on social media. I am ok with the rules my parents have about social media.
I feel grown up as I am tall for my age so when people figure out I'm only 12 they always say, "Oh, I though you were older!" I'd say I act a bit older as well, because if you saw a girl that looks like me acting babyish I think it would look strange!
10 years from now I'd like to be saving up to move out, and probably be doing make up to earn extra money.   Then I'd like to attend college where my mam went in Michigan, U.S.A. I'd love to study art of some sort.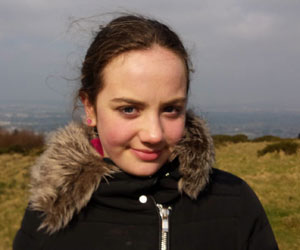 Síofra Kildee-Doolan is 12 years old and her interests include singing and baton twirling.  Her favourite subjects in school are art and English writing.  Síofra lives in Dublin with her parents, three younger brothers and the family cat, Liath.