It Starts With Hope
By Mike Hembury
It starts with desperation.
No. It starts with hope. And a victory.
In these dark times, in the vindictive death throes of fossil fuel ascendency, I would like to think that a future chronicler of global anti-oil resistance will look back and mark Standing Rock as the beginning of the end. The turning point. Not because the victory of the #noDAPL protesters was necessarily a permanent one, or that it stopped all further pipeline development. No, the reason Standing Rock marks a turning point is that for the first time, pipeline resistance went truly global. Messages of solidarity came in from around the world. The disparate Native American peoples of the USA were able to come together and face a common threat in a new way. And the active support of so many armed forces veterans struck a very symbolic chord, particularly in the United States itself. Environmental protestors went from being vilified tree-huggers to an inspiring uprising of the oppressed.
So Standing Rock became for a short time a symbol of hope, and of the power of non-violent resistance, to anyone and everyone around the world concerned with the coming effects of climate change.
And what has been amazing since then is the incredible boost it has given to other, similar struggles. In the US alone, people are protesting the expansion of the pipeline network
At the Suwannee River in North Florida #StopSabalTrail,
In Big Bend, Texas, where #TxWaterProtectors are fighting against the Trans-Pecos Pipeline,
At the St. Francis River, Arkansas, where Arkansas Rising water protectors haven taken up the fight against the Diamond Pipeline aiming to transport fracked Okla oil across Arkansas to Memphis,
In the Appalachian Mountains where the Mountain Valley gas pipeline plans to transport natural gas from northwest West Virginia to southern Virginia.
In addition, Standing Rock has also drawn attention to other, similar struggles outside of the USA:
In Canada, 100 First Nations and #coastprotectors have joined forces to block the proposed Kinder Morgan Transmountain pipeline expansion (#StopKM),
In Peru, the indigenous Achuar people have vowed to use any means necessary to block oil drilling on Amazon ancestral land,
In Nigeria, the decades-long resistance of the Ogoni people against Shell is ongoing,
In the Yasuni National Park in Ecuador – one of the most biodiverse places on the planet – the indigenous Sani people have declared that they will resist petrochemical exploitation of the "lungs of the planet" by Chinese oil companies.
As people become aware of the possibility of successful resistance, it gives heart to similar struggles around the world. Clearly, we all know that our movement is a global one, but I feel that there has now somehow been a qualitative change in the awareness that these struggles, and in many cases the indigenous peoples who lead them, are a rallying call to all of us on the planet.
In this context, I would like to recommend to you a very powerful and moving documentary film of the Sani people's resistance against the oil companies which has just come out, and which is called "Where Do You Draw the Line?"
The film is full of memorable interviews, but one statement in particular stood out to me as especially relevant:
"We're coming to a point of desperation essentially. We know that humans cannot commandeer all the space of the planet. We can't occupy all its resources. We know that there has to be some kind of a balance. And as we move along we're definitely coming to a point where we know that ecosystems are starting to collapse. "
Dr. Kelly Swing, Prof of Ecology & Environmental Sciences, University San Francisco de Quito
It seems to me that the movements for regional alliances should turn into a movement for a global alliance. One founded on a few simple principles that all can sign up to, and which would be enough to form a basis for mutual support. Such a platform could be:
Keep it in the ground. No pipeline expansions. No new fossil fuel infrastructure. Stop all fossil fuel exploration and exploitation. No fracking.
Fossil fuels are killing the planet. At this stage of human development, fossil fuel related activities must be regarded as ecocidal, spelling death to millions of people and rendering the planet uninhabitable for our descendants.
Protect the water, earth, air and remaining wildlife. Stop deforestation, ocean pollution and the destruction of our few remaining natural habitats.
For an immediate transition to carbon neutral alternatives.
For a just transition! Make the polluter pay. Revoke all subsidies to fossil fuel and subsidize clean alternatives. Ensure that jobs in green energy are made available to workers from obsolete fossil fuel companies.
None of these ideas are particularly new. But what is new is the moment, and the momentum. Governments and Big Carbon are in massive denial and preparing for a rollback of the few environmental gains that have been made. It's up to us to move forward and globalize our resistance. The clock is ticking….
"We are fighting for every person on earth. As everyone knows, the Amazon is the lungs of the earth. We are fighting for all mankind, not just for me or our community. Because otherwise the planet may become uninhabitable in a few years. We do not need gold, and we do not need diamonds. We would like the world to recognise that our forest and way of life is being destroyed….Although we just "live in the forest", we are consciously fighting oil extraction that would destroy our planet. I want this message of resistance to inspire every corner of the world."
Kurikindi "Patricio" Jipa, shaman & former Sani Isla community leader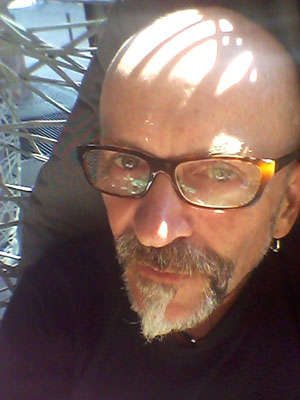 Mike Hembury is an Anglo-Berliner originally from Portland, England.  He's a writer, translator, musician, coder, sailor, environmentalist and guitar nerd in no particular order.  You can check out some of Mike's music projects here:
www.miserlou.de
www.balkonians.de
www.skarabaeus-berlin.de